Meet the ZenFone AR
The ASUS ZenFone AR (ZS571KL) is the first phone to support both Tango and Daydream. Tango is a set of sensors and computer vision software that will allow you to experience augmented reality right from the ZenFone AR. These three core technologies are motion tracking, depth perception, and area learning.
Meanwhile, Daydream is Google's platform for high-quality, mobile virtual reality. With the ZenFone AR and Daydream View headset, you will be able to dive into into incredible VR adventures. Inside the ZenFone AR, top-of-the-line components work together to power these 3D worlds for you to explore. A rich 2K Super AMOLED screen displays these next-generation apps in crystal clarity and vibrancy. Let's take a closer look at everything the ZenFone AR has to offer.
Tango and augmented reality
Tango is a set of sensors and computer vision software that enables augmented reality experiences on your phone. The ZenFone AR uses three cameras (called the TriCam system) to provide Tango's motion tracking, depth perception, and area learning abilities.
ZenFone AR is equipped with the innovative TriCam system consisting of three rear cameras — a motion tracking, depth sensing, and high-resolution 23MP camera — that enable the phone to a create a three-dimensional model of its surroundings and track its motion, so it can see the world just like you do. The motion tracking camera lets ZenFone AR track its location as it moves through space. The depth sensing camera with an infrared (IR) projector lets ZenFone AR measure its distance from real-world objects. The high-resolution 23MP camera lets you view virtual objects in your actual environment in stunning detail. Together with Tango, ZenFone AR delivers engaging augmented reality experiences for you to explore and enjoy.
The first camera is a motion tracking sensor. This helps the ZenFone AR understand its motion in space. A dedicated inertial measuring unit can tell which direction you're moving in and how quickly you're going there.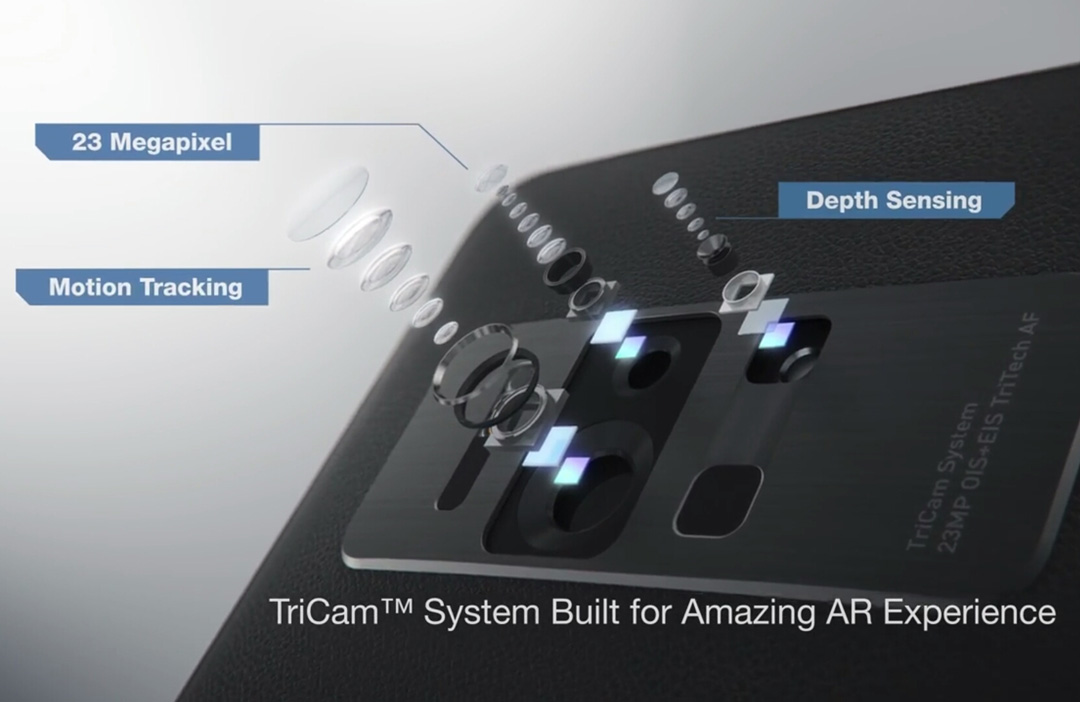 The second is a depth-sensing camera that fires an array of infrared lasers in front of the user so the ZenFone AR can understand its distance to objects in the real world. This is done simply by measuring the amount of time it takes for those beams to bounce back from the surface. These lasers need to fire continuously to keep an up-to-date model of surroundings.
The last is a 23 megapixel Sony IMX318 camera, this ensures a faithful reproduction of the real world, for example, as a backdrop to your augmented reality experiences. The ASUS TriTech system helps this camera get a lock on subjects quickly, thanks to infrared lasers, phase detection, and continuous autofocus.
Daydream and virtual reality
Daydream is a platform for high quality, mobile VR by Google. It consists of Daydream-ready phones, Daydream-ready headsets and controllers, and apps built for VR. Daydream View is the first Daydream-ready headset and controller made by Google, and it works with the ZenFone AR to bring you incredible VR experiences.
An important part of Daydream View is the Daydream controller, which lets you interact with the virtual world. It points where you point, and has smart software and sensors built in so you can swing it like a bat, wave it like a wand, or navigate a maze. With the ZenFone AR and Daydream View, you will be able to explore new worlds through Google Street View and Fantastic Beasts. Kick back in your personal cinema with YouTube, Netflix, Hulu, and HBO. Get in the game with Gunjack 2, LEGO® BrickHeadz, and Need for Speed. That's just the beginning of the VR possibilities with the ZenFone AR and Daydream.
Incredible performance
The ZenFone AR has the processing power to handle the latest and greatest virtual reality titles. The core of the ZenFone AR is the world's first Qualcomm® Snapdragon™ 821 processor. Alongside the Adreno 530 graphics processor, the 821 has been tailor-built for Tango and augmented reality. This is absolutely vital to maintain smooth performance under intense usage.
Up to 8 GB of RAM (a world first for a smartphone) and 256 GB of UFS 2.0 storage keep the bar high. Large capacity and high speed are needed to ensure 3D models can be created, stored, and recalled quickly; when you're enjoying augmented reality, these assets are a core part of the experience. Rest assured that your time in VR and AR will be smooth and flawless.
A beautiful display
The screen is your window to these new digital frontiers. To do them justice, ASUS has included a gorgeous 5.7-inch 2K display. It's a Super AMOLED screen, which means great battery efficiency and stunning colors. The ZenFone AR is able to create clear and vibrant imagery thanks in no small part to color reproduction rated at over 100% NTSC and the 2560 x 1440 resolution. To top it all off, a Gorilla Glass 4 screen provides proven protection against day-to-day bumps and scratches.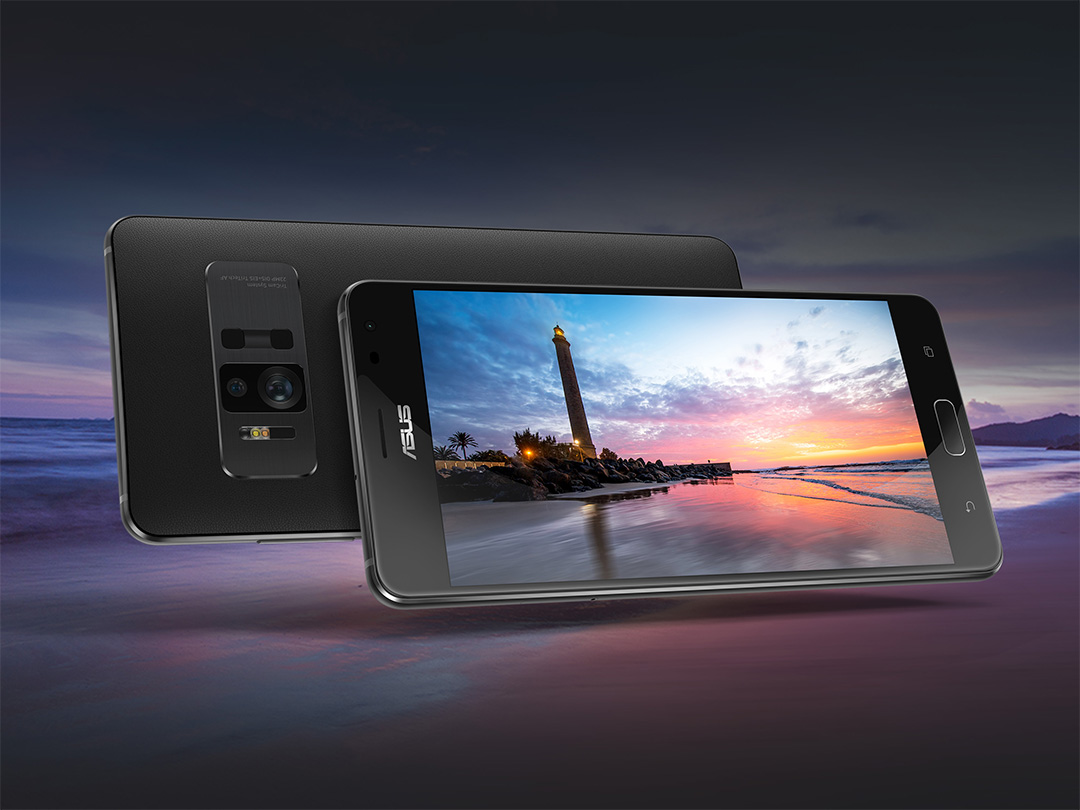 The ZenFone AR is an incredible device that opens up new worlds through both augmented reality and virtual reality. Its core processing is powerful enough to take on these demanding Tango and Daydream applications and deliver experiences like no other. Would you like to know more? Visit the ASUS ZenFone AR product page for more details.