How to get the most out of Cortana in Windows 10
Your ZenBook 3 comes with a great search assistant called Cortana. With it, you can check meetings in your calendar, look up quick facts without needing a browser, set alarms, and much more. If you've ever used Siri, Alexa, or Google Now, you'll already be familiar with the experience. This is a core feature of Windows 10 and can make your life a lot easier, provided you use it right. With these five tips, we're going to make sure you have it set up right, and can make the most out of the features Cortana has to offer.
Know what you can ask Cortana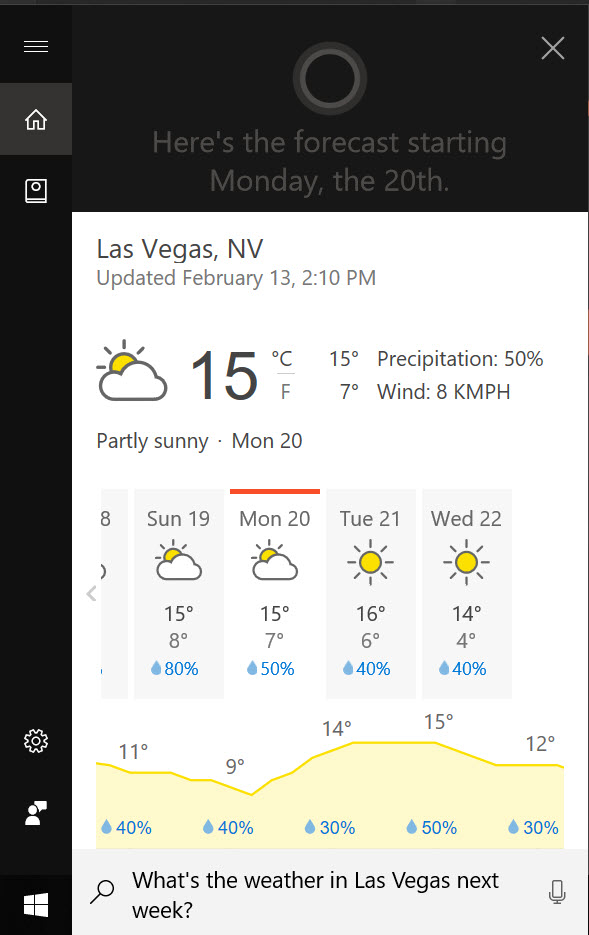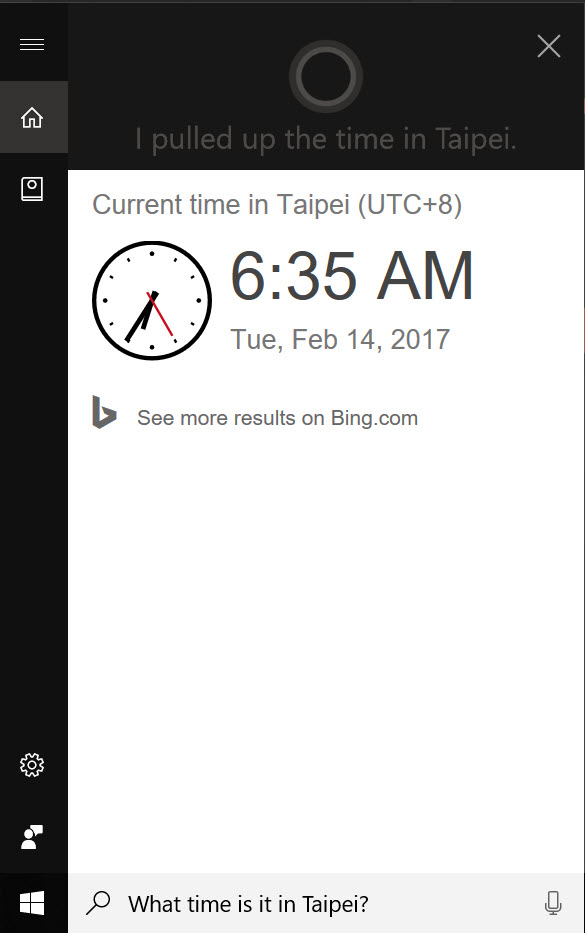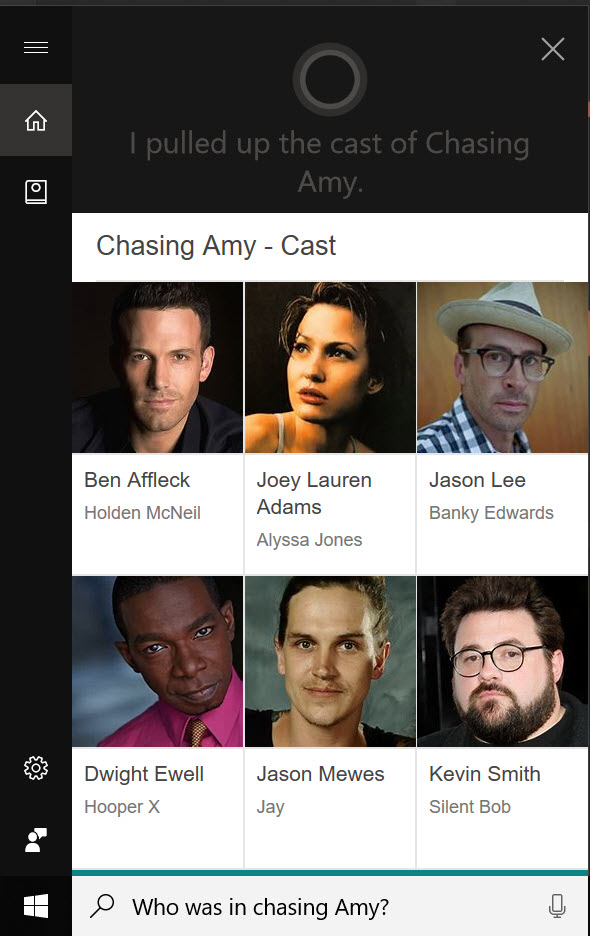 If you end up asking Cortana to do something it's not set up for, the request will go to a browser. That's a bit of a hassle, considering you could have just gone to your browser in the first place. To avoid those situations, it's best to get familiar with the commands Cortana can handle so when the opportunity comes up, you'll remember to use it. Here are a few handy examples.
Time – "What time is it in Taiwan?"
Weather – "What's the weather in Las Vegas next week?"
News – "Show me the latest political news."
Notes – "Make a shopping note to buy two liters of milk."
Math – "What's the square root of 1369?"
This is just the tip of the iceberg. It can launch apps, control music playback, track flights, and lots more. You can find an exhaustive list of Cortana commands here.
Using your voice with Cortana
It's possible to launch into Cortana by pressing the Start key and Q at the same time, but it's even easier to say "Hey Cortana".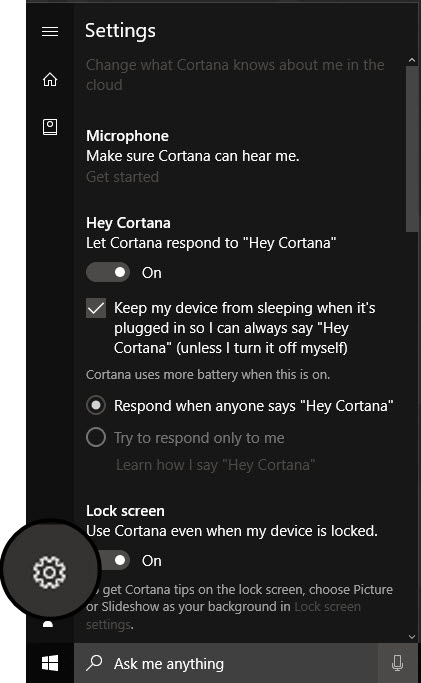 When you click on the "Ask me anything" box, you'll pull up the Cortana text entry window. Click the gear on the left side. Then just click the Hey Cortana toggle to turn it on. You'll also have options to pause sleep mode so it's always at the ready, and decide whether anyone can use hands-free Cortana, or just you.
Alternatively, you can also press Shift + Windows + C, or click the microphone icon to initiate voice input. This is a nice option if you're not comfortable with Windows perpetually listening for the "Hey Cortana" keyphrase.
Specify search types with filters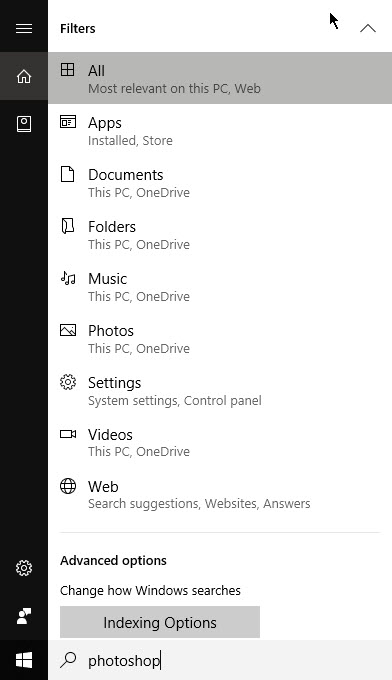 If you have a clear idea of what you're looking for, you can specify what type of search results you're looking for. For example, "photos:vacation", or "apps:photoshop". Here's a list of operators you can use to refine your results.
Apps:
Settings:
Documents:
Folders:
Photos:
Videos:
Music:
Web:
These can be typed in manually, but there's also a Filter menu in the top-right of search results to pare things down to what you're looking for. The most recent filters will appear as additional tabs along the top which can be used instead for easy access later.
Make use of suggested reminders
A relatively new function to Cortana will monitor your e-mails for any time you say you're going to do something, and suggest a reminder to make sure you follow up. So long as Cortana has communication permissions, this feature should be enabled automatically.
Currently this feature is only available in the U.S. when you're using Office 365 or Outlook.com, but expect it to come elsewhere soon.
Use Notebook to customize your experience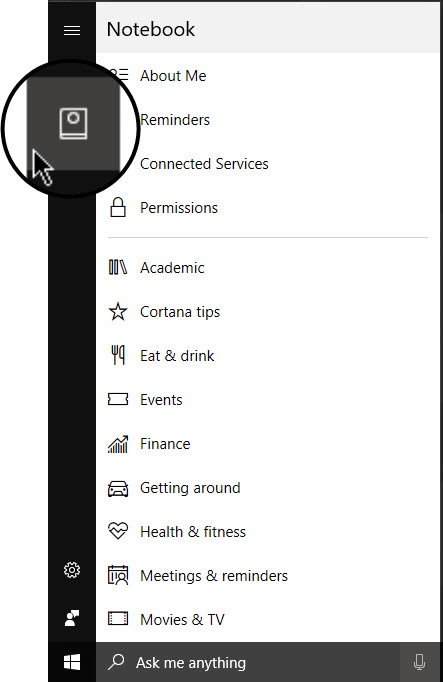 In the top-left of Cortana menu is a notebook icon. From here you can tweak every part of the comprehensive search so it's tailored to your interests and needs. It's broken down by type of search, and each menu has detailed settings on each category. For example, you can toggle proactive notifications for when to leave for work, based on local traffic conditions, add stocks to track, or add scholarly fields of study that you'd like to keep tabs on. If the Cortana menu is too cluttered, you can remove types of cards altogether. The Notebook can also be a helpful reference for the kinds of searches for which Cortana is tailored.
Despite its simple interface, Cortana is a truly deep utility that can enhance your day-to-day flow in a number of ways. Learn more about how to get the most out of your ZenBook 3 by visiting our how-to section.