6 ways Augmented Reality can improve your life
Technology companies often tell us their latest products will improve our lives. One of the newest technologies is Augmented Reality (AR) now available on phones like the ZenFone AR. Augmented Reality uses hardware and software to combine the real world with 3D virtual objects in a seamless experience.
To do this, the phone needs specialized hardware. In the ZenFone AR, the TriCam system provides the powerful, water-cooled processor with image sensitivity, motion tracking, and depth sensing; three data sources that enable the phone to build a 3D virtual map of the space around you in real time.
It can then integrate characters, animations, tools, and effects with the real world in a composite image you can view on the phone's screen.
But could this technology actually improve your life?
Stay fit
Keeping on track with fitness goals is never easy. But it might be easier with AR to keep you focused. Seek is an app designed to keep you out and about, hunting for treasure. As you walk (or run!) around, you can track down AR treasure chests, stashing point and coins you earn along the way. When you open a Seek chest you win real prizes from local and national companies.
If you're a dedicated gym bunny but you're looking for a new way to bring your workouts to life, Fitness Gyms now offer an AR fitness app which demonstrates the best techniques for your workout when you point your camera at the labels on the equipment.
Become more knowledgeable
Everyone loves to visit museums and plunge into new worlds of knowledge. With an AR-enabled smartphone, you can truly bring your museum experiences to life. StreetMuseum, an app from the Museum of London, now lets you see historic images of the city as you walk around.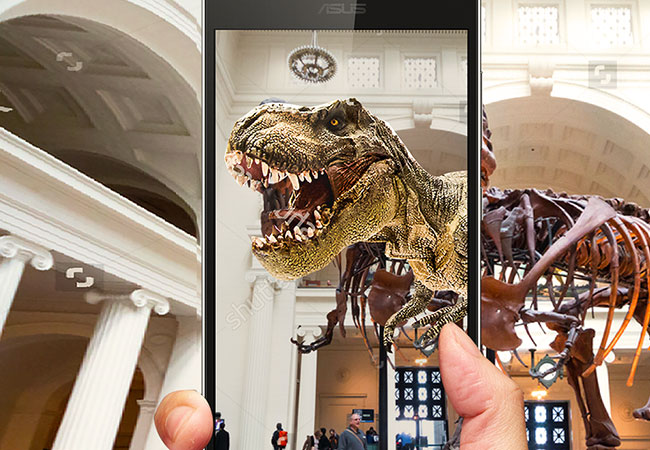 Similarly, the Smithsonian Museum in Washington DC and the Royal Ontario Museum in Toronto are offering AR apps to visitors. In the Royal Ontario museum's app, the skeletons of dinosaurs become covered with realistic 3D skins and even animated, roaring at visitors!
Improve your health
Have you ever felt vertigo peering over the edge of a cliff? Sure you have! But there are some people who have a condition where they feel this all the time, even when standing still or walking. A new app called Vertigo AR can help patients with the condition train their brains to reduce the effects of the disorder.
AR opens the doors to many healthcare benefits, but few are more remarkable than the possibility of restoring vision to the blind. The vOICe app does just that using the phone's motion tracking and depth sensing to create 3D soundscapes allowing people without sight to 'see' through their ears.
Get smarter
Remember how you always learned a little faster when things were presented visually? Well, AR is helping teachers and students learn topics faster and in greater depth. With apps like Star Walk, students can understand the solar system and stars with a beautiful sky map.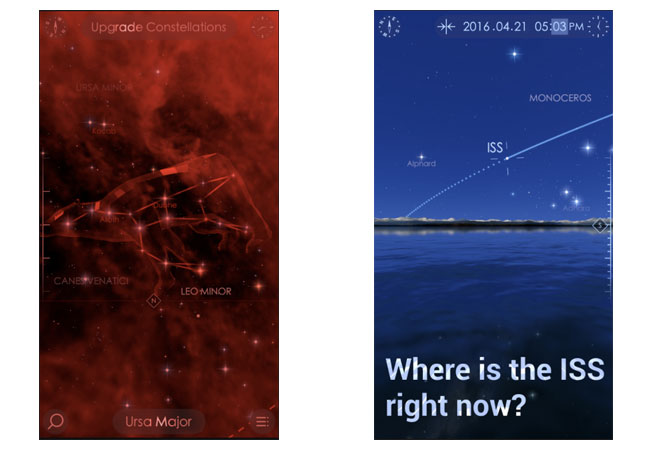 Meanwhile, DinoPark lets kids learn about dinosaurs and archaeology with fun and interactive AR experiences. Even core subjects like Geometry and Anatomy can be practiced with AR.
Discover your environment
AR means augmented urban experiences, a phone displaying where the best deals are, reviews of places to eat, drink or party, and even information about historic places and buildings. Wikitude and Lonely Planet both offer apps which enhance urban exploration with integrated maps and navigation tools.
Try before you buy
As the world's commerce moves online, we lose the benefit of making a decision in person. With AR, brands like Ikea, Pottery Barn and Gap are offering shopping experiences that allow us to try out products in our homes virtually. Not sure if that couch you love will fit in your apartment? Place it there in AR and you'll soon be sure. Not sure if that top will match your jeans? Try it on at home with AR!
So, whether you're looking for the best deals, trying to learn a new skill or at the gym working on fitness goals, AR is an incredible technology that can enrich your experience and keep you ahead of the curve. With a phone like the ZenFone AR, built to withstand the high-speed processor requirements that smooth AR demands, you'll be ready to immerse yourself in new worlds of information and experience.