20 reasons why people love the Transformer 3 (T305)
The ASUS Transformer 3 (T305) is a 2 in 1 laptop that you'll quickly fall in love with. It's slim and beautiful, but unquestionably powerful. We want to go through 20 reasons why it's one of the best PCs you can buy.
1. Exquisite craftsmanship
Your PC is a tentpost in your life. It's something you see and rely on every day. Its presence should be a delight.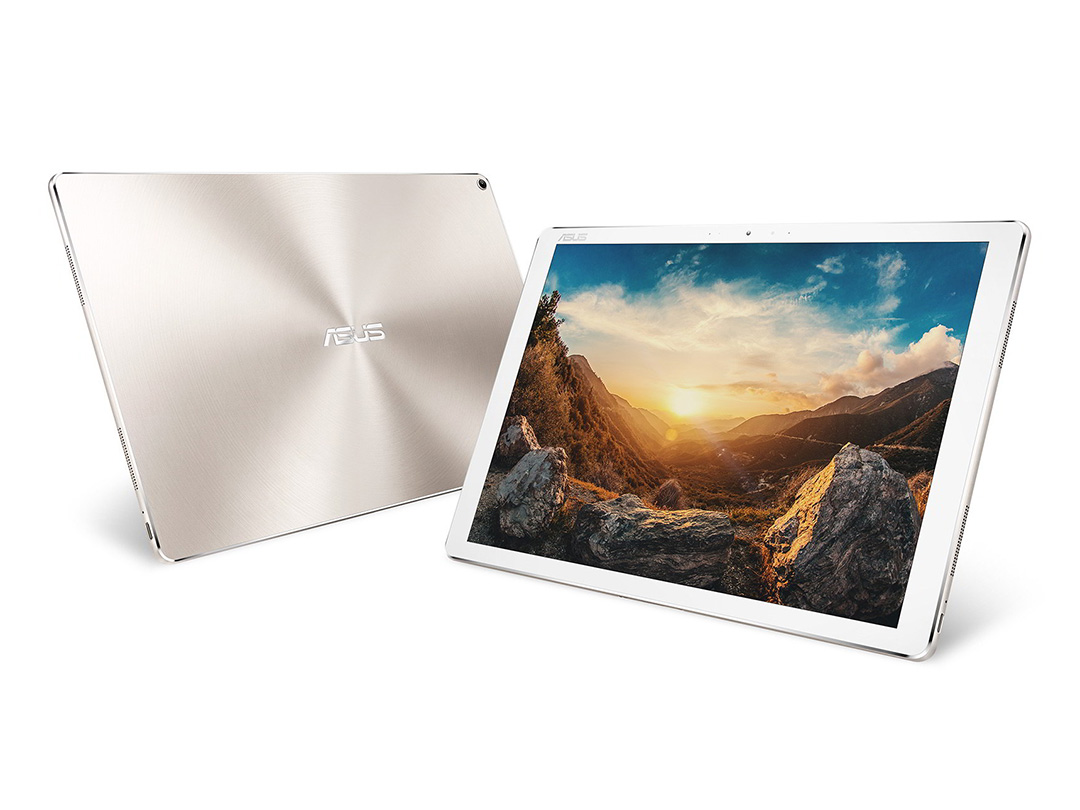 The ASUS Transformer 3 endeavors to provide a premium fit and finish. A 6.9 mm profile and 695 g weight make it imperceptibly light. Meanwhile, the spun-metal finish and diamond-cut edges add an element of visual sharpness rarely seen elsewhere in PCs. You'll recognize the exceptional build quality the second it's in your hands.
2. Natural input
The mouse and keyboard are a classic pair, but there are some standards that will never disappear.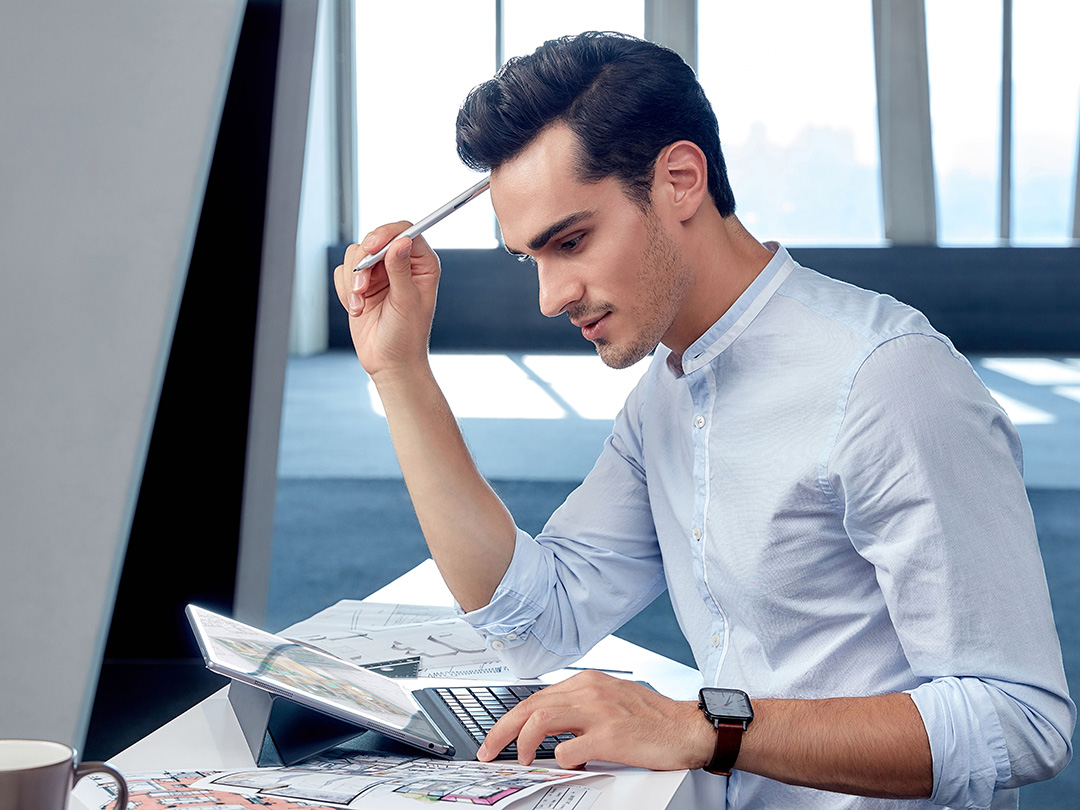 The ASUS Pen provides natural control with precision you won't see with touch input alone. Professionals looking to sketch and design will appreciate the 1024 levels of pressure sensitivity. Every nuance of a stroke is reflected just how you want it, plus access to desktop-class software means you'll have every tool you need at your disposal.
3. Gorgeous 3K display
The display of a PC is your primary point of focus. The range of content from your digital world is vast, and you want to make sure it looks as crisp and vibrant as possible.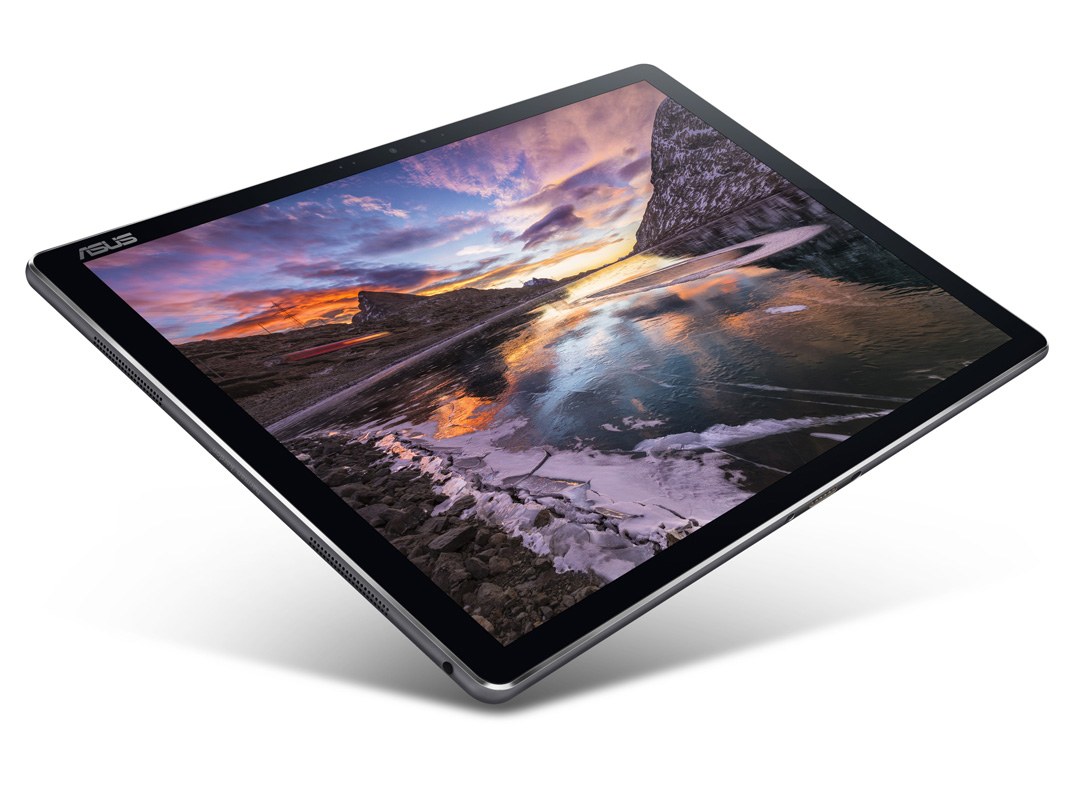 The ASUS Transformer 3 has a 12.6-inch 2880 x 1920 screen. This is incredibly sharp, and will reflect even the smallest details in every photo you view, every video you watch, and every word of text you read. You can count on 121% sRGB color accuracy to produce images that are true and rich. 450 nits of brightness ensure those details are never lost to glare or shadows, either. The physical dimensions create an 80% screen-to-body ratio, which means fewer distractions and more of what you love.
4. Uncompromising video sharpness
A good picture goes beyond capable hardware. In the background, image processing is key to producing crystal clear videos.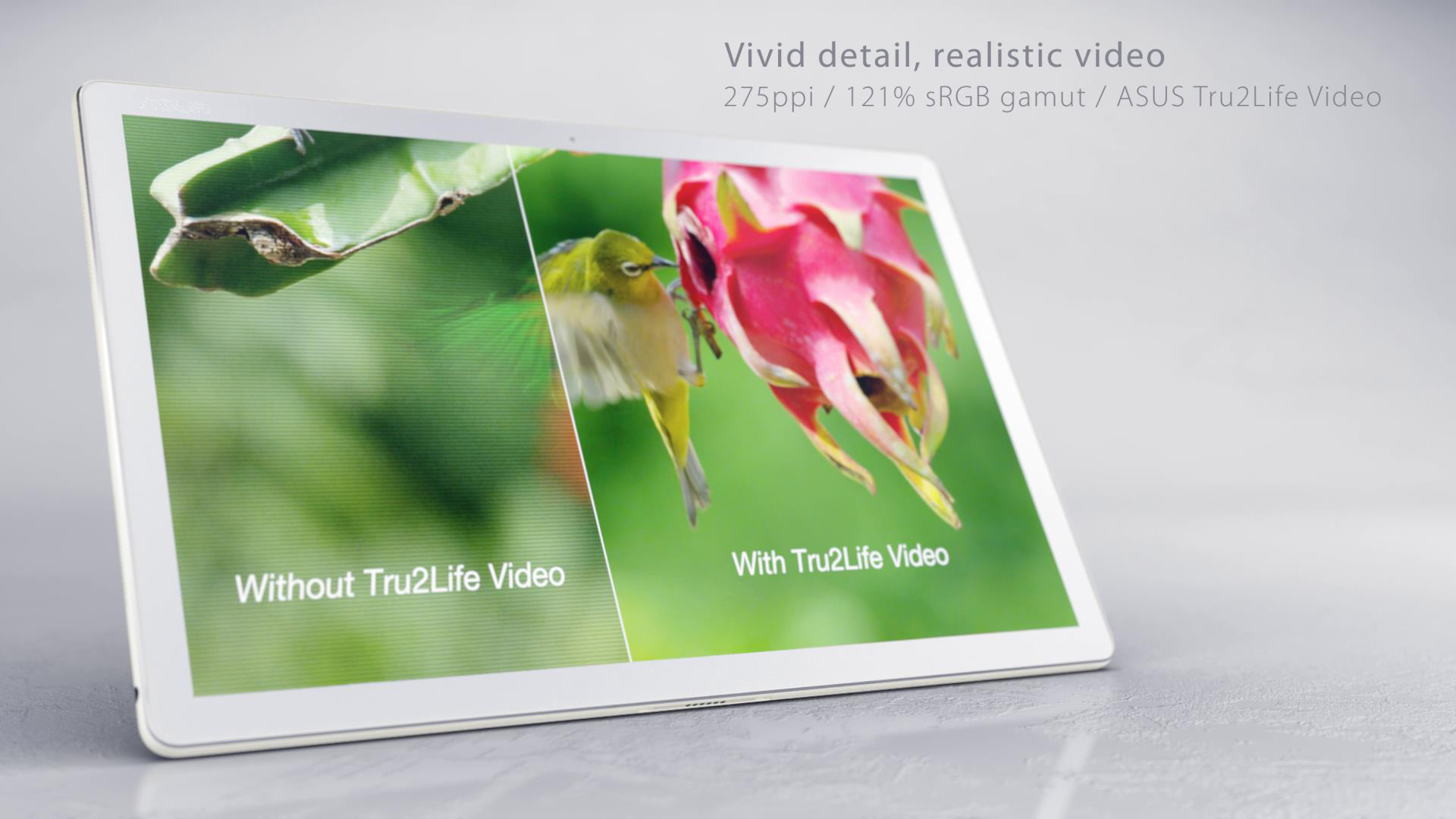 The ASUS Tru2Life Video engine enhances contrast by up to 200% by instantaneously optimizing every pixel of every frame. This is a complex process, but at the other end of it, you'll enjoy razor-sharp videos with clean framerates and nearly nonexistant motion blur.
5. Easy on the eyes
When you're on a roll on a project, you're going to spend a lot of time looking at the screen. Whether you're trying to polish off an essay, or reading a great article online, there's a toll taken on your eyes.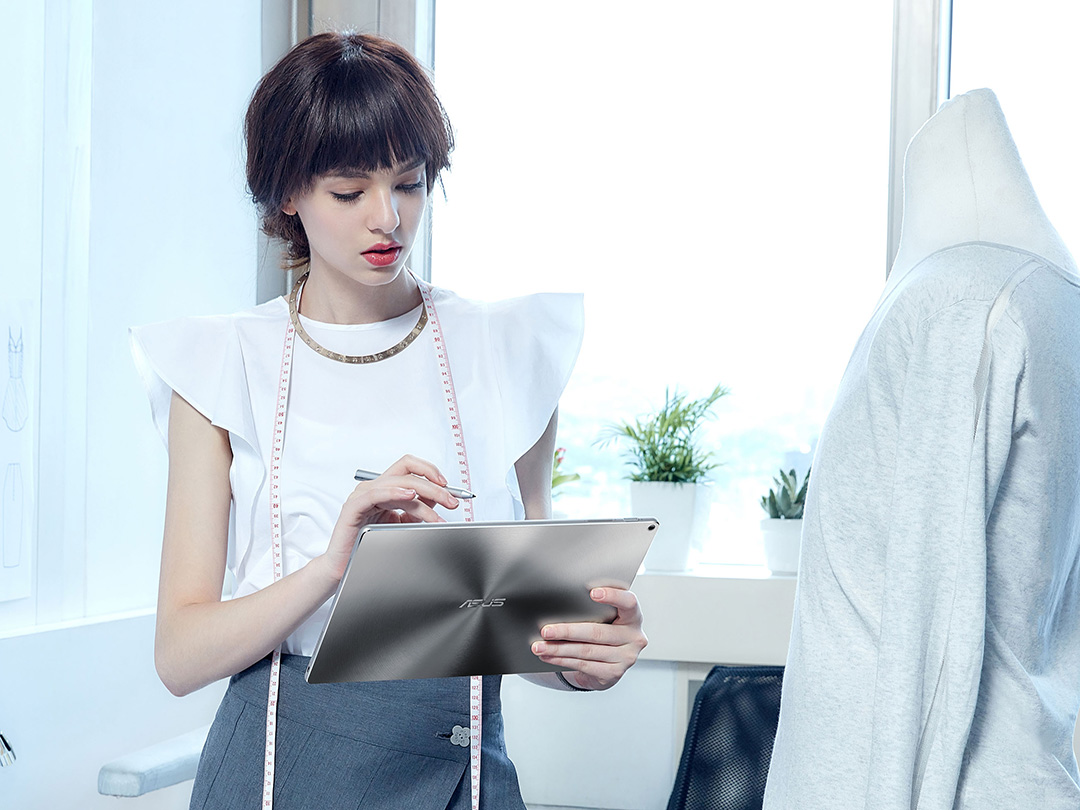 That's why ASUS builds in a color profile management system called Splendid. It includes Eye Care mode, which can reduce blue light emissions from the ASUS Transformer 3 by up to 30%. Blue light has a very short wavelength, which translates to higher eye strain. By reducing its presence, your eyes get a much-needed break when viewing in low light or going over text for long periods of time.
6. Crystal clarity
When a PC is this light and looks this great, you'll want to carry it around everywhere. This can pose a challenge to many 2 in 1 laptops, which struggle when providing a clear view of the screen when outdoors.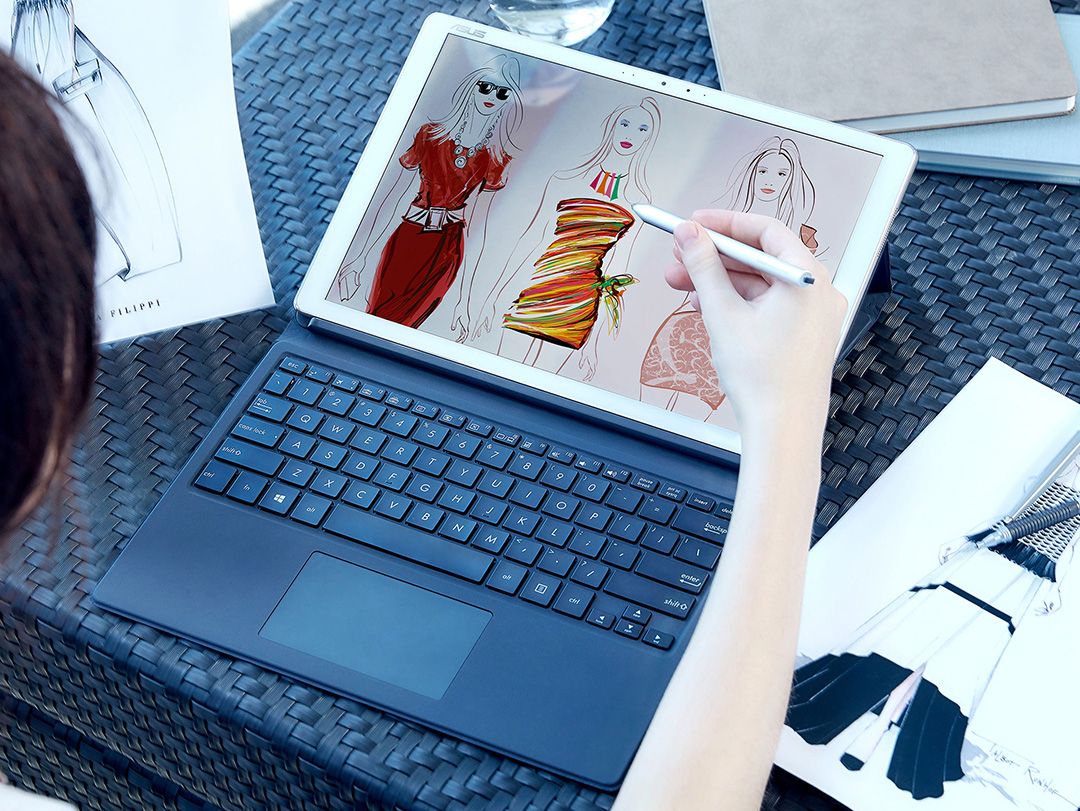 Luckily the ASUS Transformer 3 benefits from TruVivid construction. This reduces the number of physical layers between your eyes and the display proper, and translates to reflections reduced by two thirds. With smart engineering like this on your side, you'll be able to enjoy your PC in any lighting scenario.
7. Powerful sound
Great shows on Netflix or funny clips on YouTube look spectacular on the screen of the ASUS Transformer 3, but that's just one piece of the puzzle. How do they sound?
A four-speaker system tuned by Harmon Kardon generates immersive and crisp audio. Inside, an intelligent amplifier monitors power output in realtime, and can crank up volume by 450% without distortion or damaging the speakers. No matter what you're listening to, the ASUS Transformer 3 will impress your ears. Learn more about the speaker system here.
8. Deep bass
Smaller speaker systems tend to sound on the tinny side, especially when they're as thin as the ASUS Transformer 3. We think you'll be pleasantly surprised by the deepness of its sound.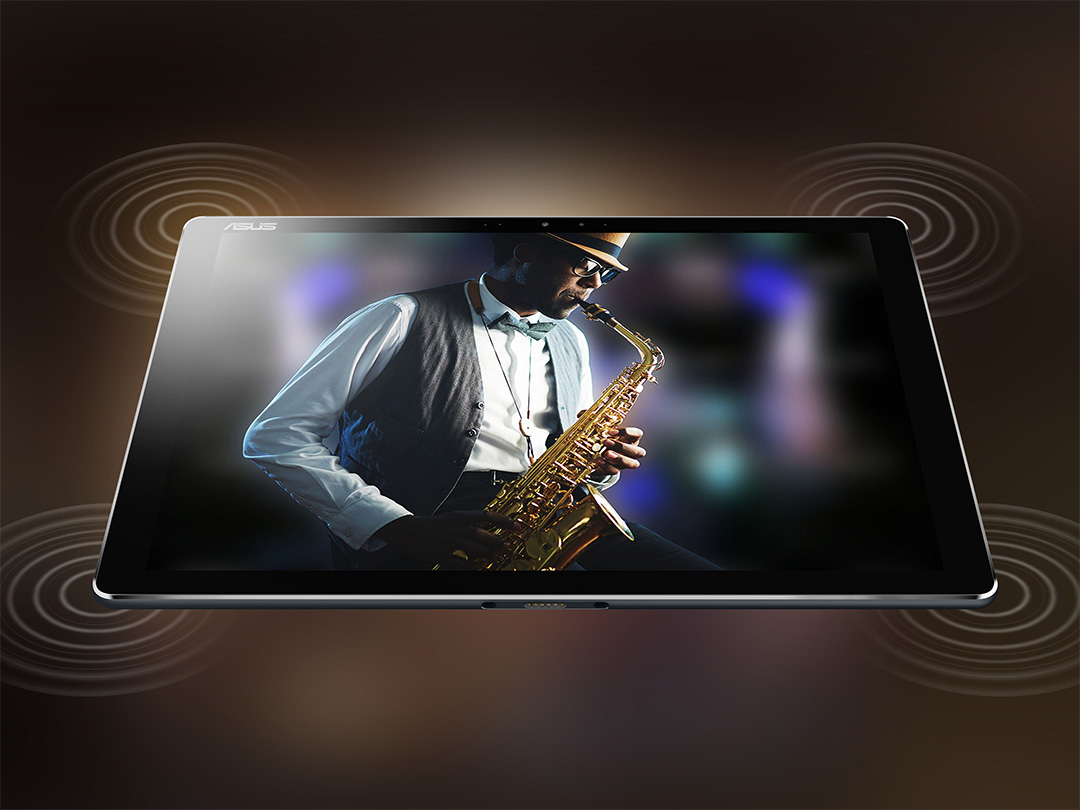 The ASUS Transformer 3 manages to produce bass that's four times louder than competitors thanks to a large diaphragm. These are rigid fiberglass chambers built into the chassis, which ultimately produce rich sound with a wide frequency response. Go ahead, crank up the volume, and you'll see what we mean.
9. Automatic speaker configuration
You're not always going to be listening to the same thing in the same way. Sometimes you'll be holding your PC in portrait orientation, sometimes in landscape. Sometimes it will be propped up, and others it will be flat on a table.
To compensate for this, the audio source adjusts on the fly based on the position of the ASUS Transformer 3. This keeps stereo sound equally balanced in any circumstance. That means strong bass at the lower two speakers, and higher pitch in the upper ones, whichever they may be.
10. Your audio, your way
Music isn't the only thing you'll be listening to on your PC. Sometimes you'll be playing games, or watching a movie, or taking a Skype call. Should sound really be balanced equally between all of them?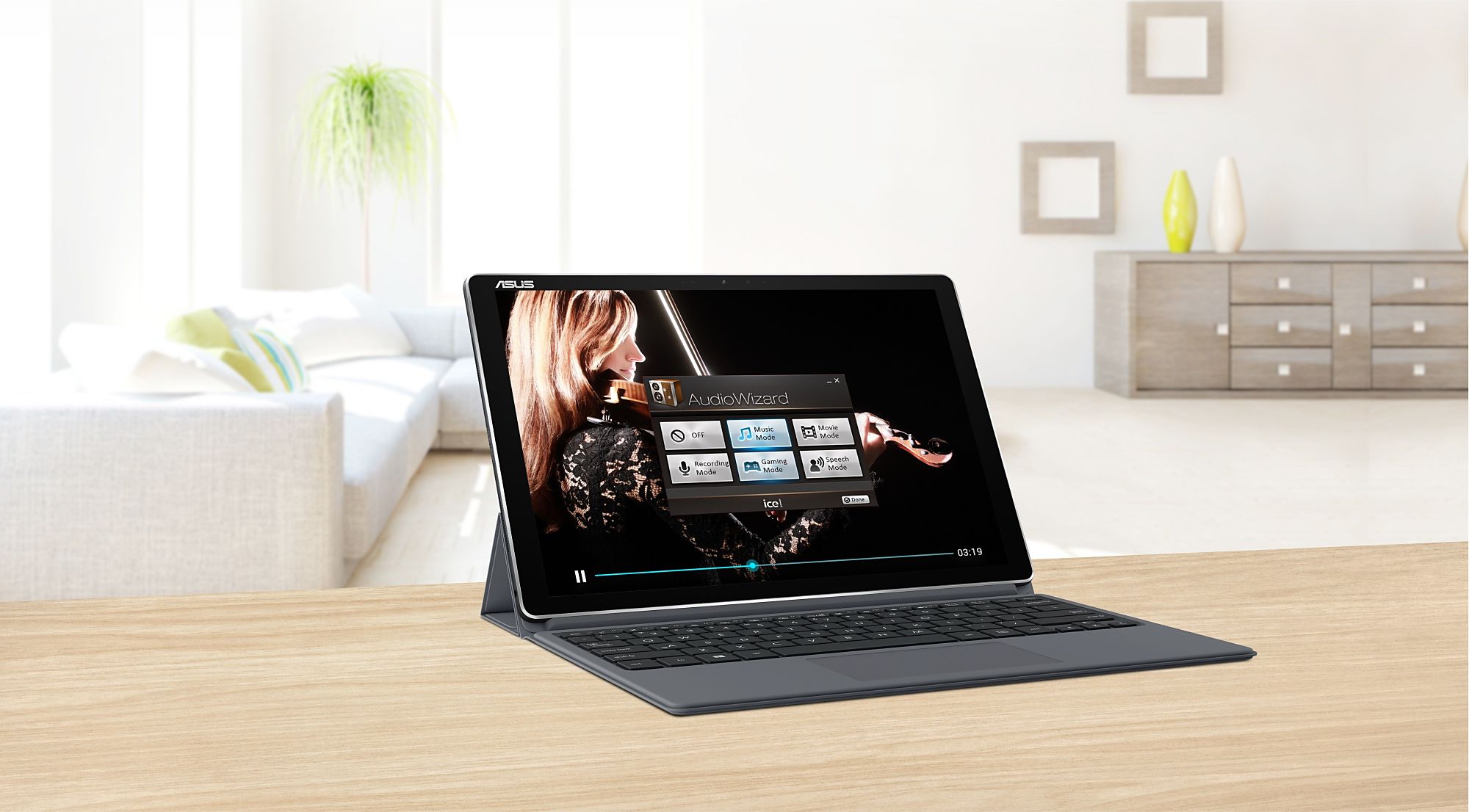 The ASUS Transformer 3 is loaded with Audio Wizard, where you can pick and choose a range of sound profiles. These selectable modes provide optimal sound output for whichever activity you're enjoying. You can even take direct control and fine tune the audio experience exactly to your liking.
11. The perfect keyboard
You spend a lot of time writing, be it instant messaging, e-mails, or just getting around the web. Your 2 in 1 laptop needs to be well-suited for the task.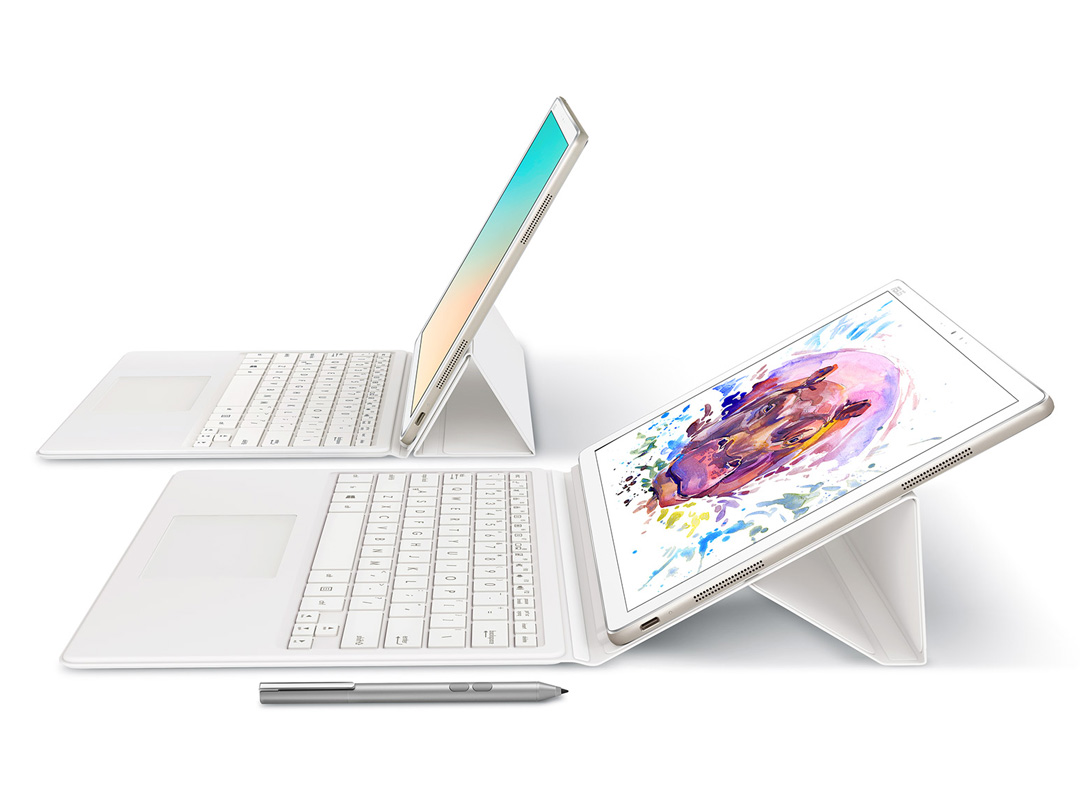 That's where the ASUS Transformer Sleeve Keyboard comes in. It's slim, but also comfortable and flexible. The rear lets you prop up the ASUS Transformer 3 at two different angles, depending on your use. A spacious touchpad is just below the keyboard, able to help you get around Windows 10 effortlessly with multitouch gestures.
12. Write at night
The ASUS Transformer 3 is built to be versatile. You need to be able to use your PC anywhere at anytime, even when the lighting isn't great.
That's why the ASUS Transformer Sleeve Keyboard has full backlighting. This way you can type comfortably in the evening, or in other dimmer situations as easily as during the day. 1.4 mm of key travel translates to real comfort over longer periods of typing. You'll quickly find yourself writing more easily than you would on a traditional clamshell laptop.
13. Eight stunning color combinations
Your PC says a lot about you. Others will certainly notice what you're using when at work, school, or your favorite coffee shop. This is your chance to leave a great impression.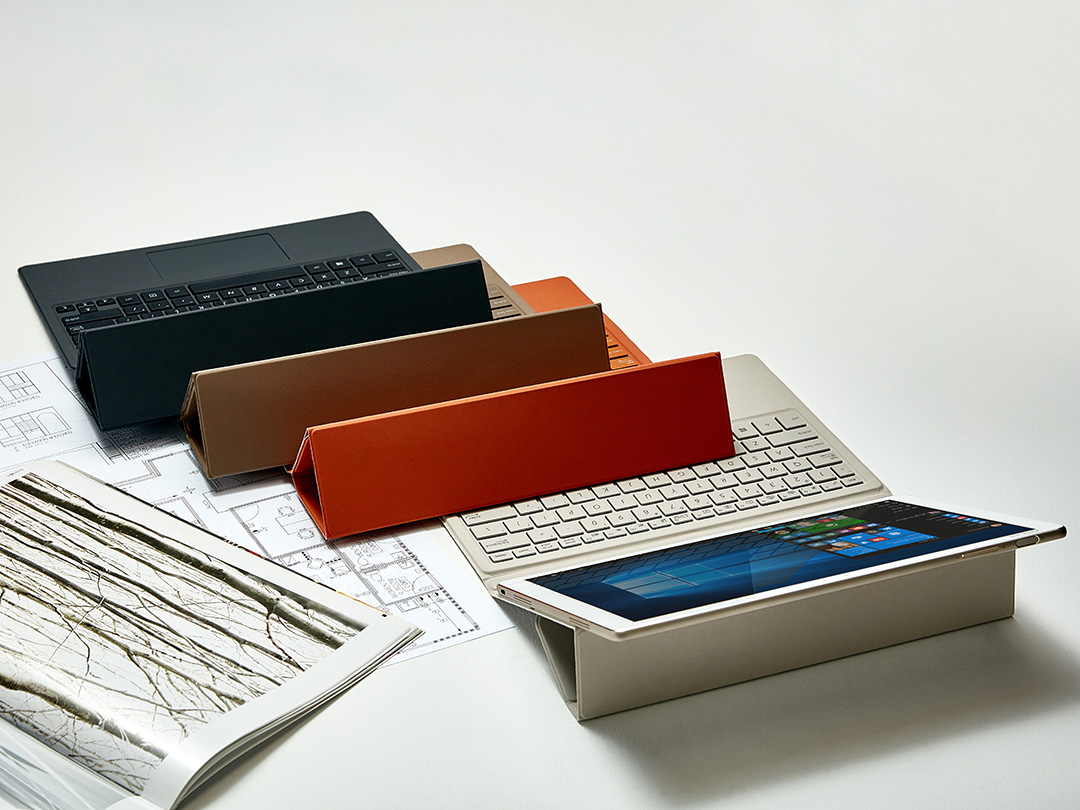 The ASUS Transformer 3 comes in two colors, depending on your style. Icicle Gold is bright and clear, standing out from the crowd. Meanwhile, the Titanium Gray is slick and subtle. The diamond-cut edge offers a razor-sharp glint against the dark tones that will certainly catch the eye. Add to that the four color options for the ASUS Transformer Cover Keyboard, and you have a healthy range of combinations to pick from.
14. Outstanding performance
Just because you're on the move doesn't mean you want to skimp on processing power. Luckily, you can keep things light and portable while enjoying top-of-the-line performance.
The ASUS Transformer 3 has a 7th. generation Intel® Core™ i7 processor at its heart. It's supported by up to 8 GB of incredibly fast LPDDR3 RAM. Data is stored on an SSD operating 5.6 times faster than a classic hard drive. These are available up in sizes up to 512 GB, which is more than enough to house your photos, videos, and other important files.
15. The only plug you'll need
The ASUS Transformer 3 manages to keep its exceptionally sleek profile by making tough decisions about its inputs.
The single USB-C port is incredibly powerful. It's versatile enough to handle the wide range of challenges modern computing presents. This input is built with Thunderbolt™ 3 technology, so you can transfer data at up to 40 Gbps – that's 80 times faster than USB 2.0. This is perfect for quickly shunting data back and forth from external hard drives. It's also able to render out to 4K displays at the same time, for those that have a truly epic desk setup.
16. A lightning-fast and secure fingerprint scanner
You're busy, and every second saved is valuable. Getting access to your computer quickly is obviously helpful, but security is also important. A lifetime of personal files and photos can live on a PC.
The ASUS Transformer 3 includes a fingerprint scanner to help you log in securely in under a second. This ties in with the Windows Hello system, which intelligently detects user profiles and keeps them separate. At the end of the day, you don't have to pick between convenience and security.
17. Capture moments of beauty
Day by day, you may find beauty when you least expect it. Having a high-quality camera handy ensures you can capture it before the moment passes by.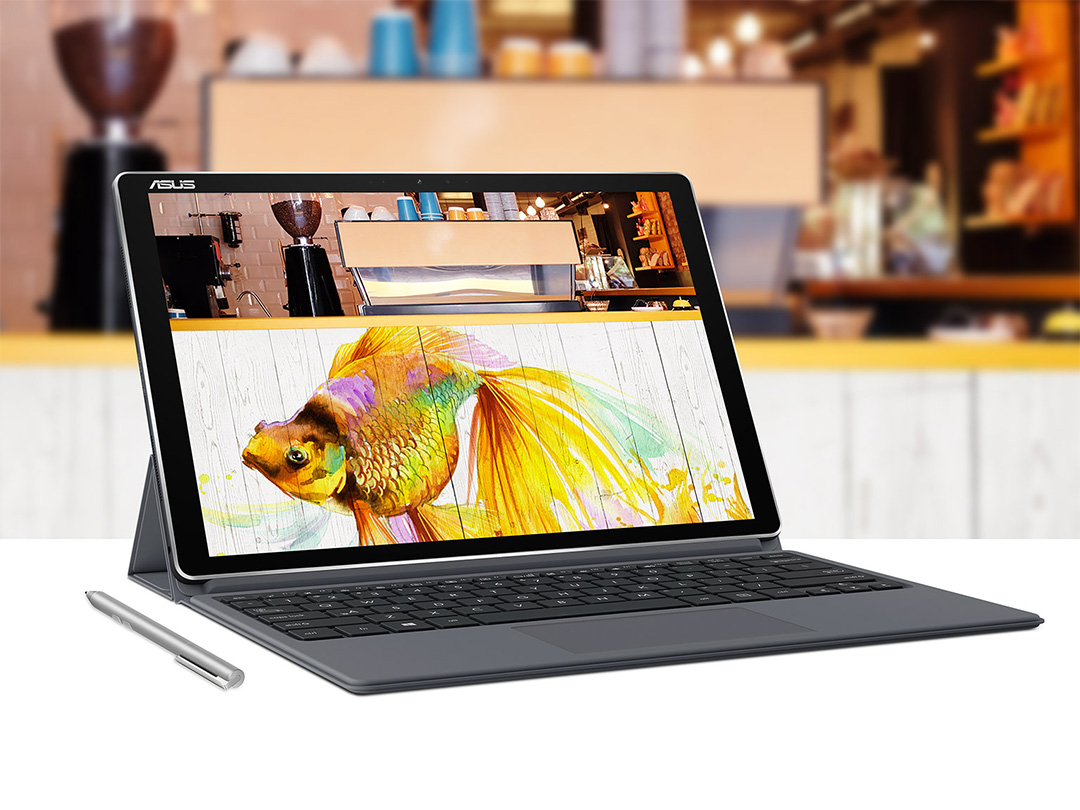 The ASUS Transformer 3 has a 13 megapixel rear camera to do just that. Thanks to the wealth of software at your command, you can immediately get to editing and sharing those photos however you like. There's also a 5 megapixel camera on the front for handling any Skype calls or quick selfies.
18. Charge and go
A powerful PC is great, but one that lasts you the day is better. Unfortunately, not everybody can spend their time tethered to a plug in the wall.
That's why the ASUS Transformer 3 has fast charging technology built in. You're able to top up to 60% in only 50 minutes. This way you're not stuck in one place for long, and can get the power you need quickly to get through the rest of the day.
19. Absolute connectivity
Though the ASUS Transformer 3 only has the one USB-C slot, it's smart enough to support your entire desktop.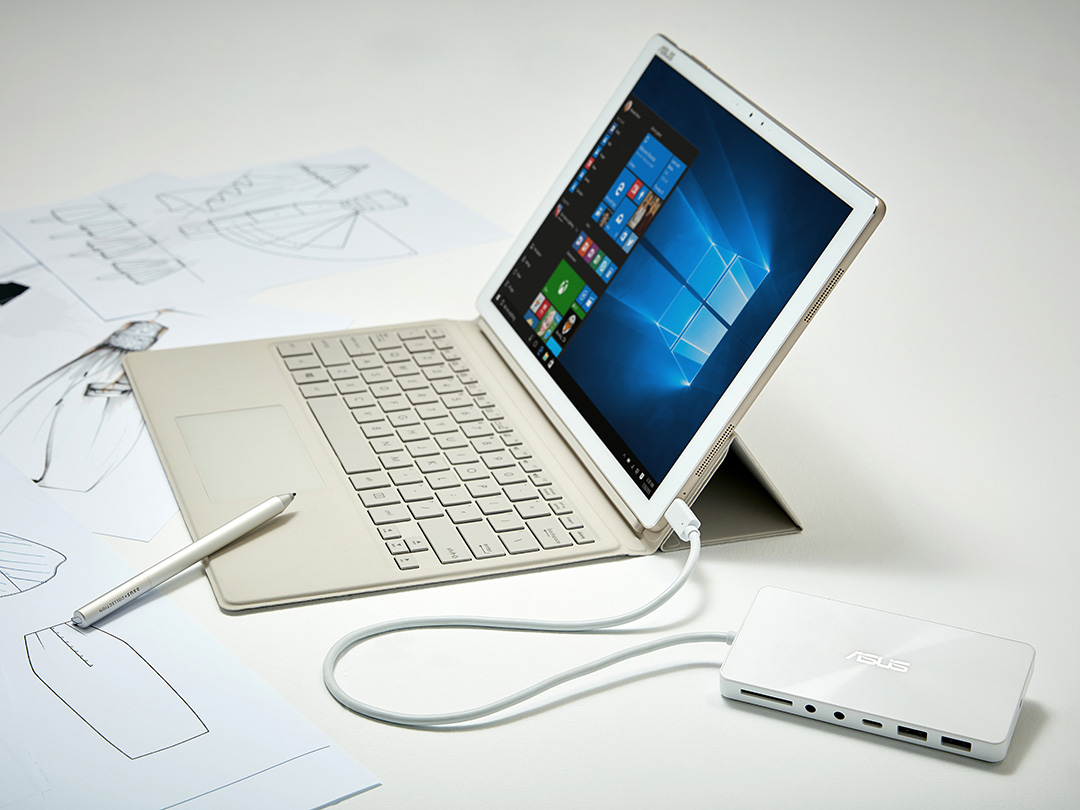 The Universal Dock has full-sized USB 3.0 ports for hard drives and peripherals, an HDMI and VGA slot for connecting external monitors, an SD card slot for transferring photos, and even audio jacks for your headphones. This way, the ASUS Transformer 3 can stay light and mobile while on the move, but remain a true connective hub when you're at home or in the office.
20. Expansive audio
The ASUS Transformer 3 has excellent built-in speakers, but sometimes you need to be able to fill the room with high-quality music.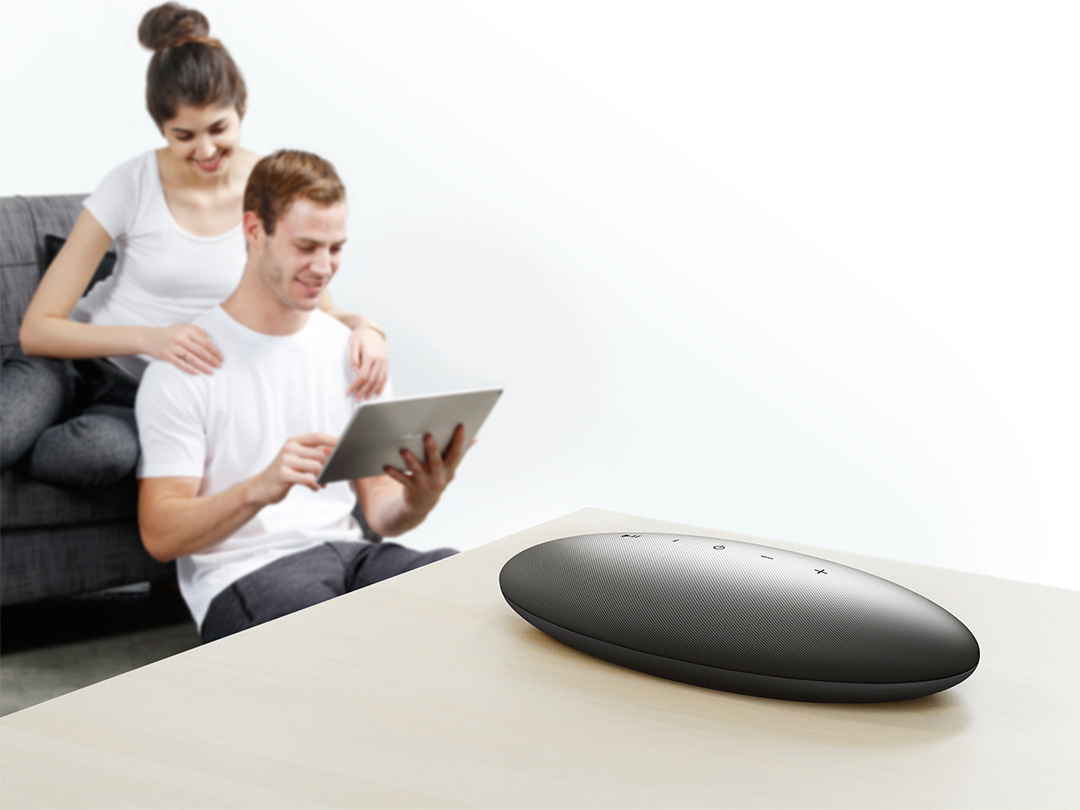 The wireless ASUS Audio Pod tackles this challenge head-on. Its four-speaker system is built to deliver virtual 5.1 surround sound in all directions. A sleek design helps it fit into any occasion, while hardware controls helps you pause and play tracks without having to reach for the PC. Pop this in the kitchen while you're cooking dinner, bring it with you on the patio with friends, or any other occasion where good sound could come in handy.
That covers a lot of what the ASUS Transformer 3 has to offer, but not everything. Be sure to visit the ASUS Transformer 3 product page for all of the details.