20 reasons why people love the ASUS ZenBook 3 (UX390)
The ASUS ZenBook 3 (UX390) is one of the best laptops you can buy right now. It's slim, and powerful; classic, but cutting edge. We've lined up some of the biggest features it has to offer.
1. Amazingly thin and light
Life on the move means your gear has to be portable. The incredibly slim profile of the ASUS ZenBook 3 makes it perfect for this kind of pace.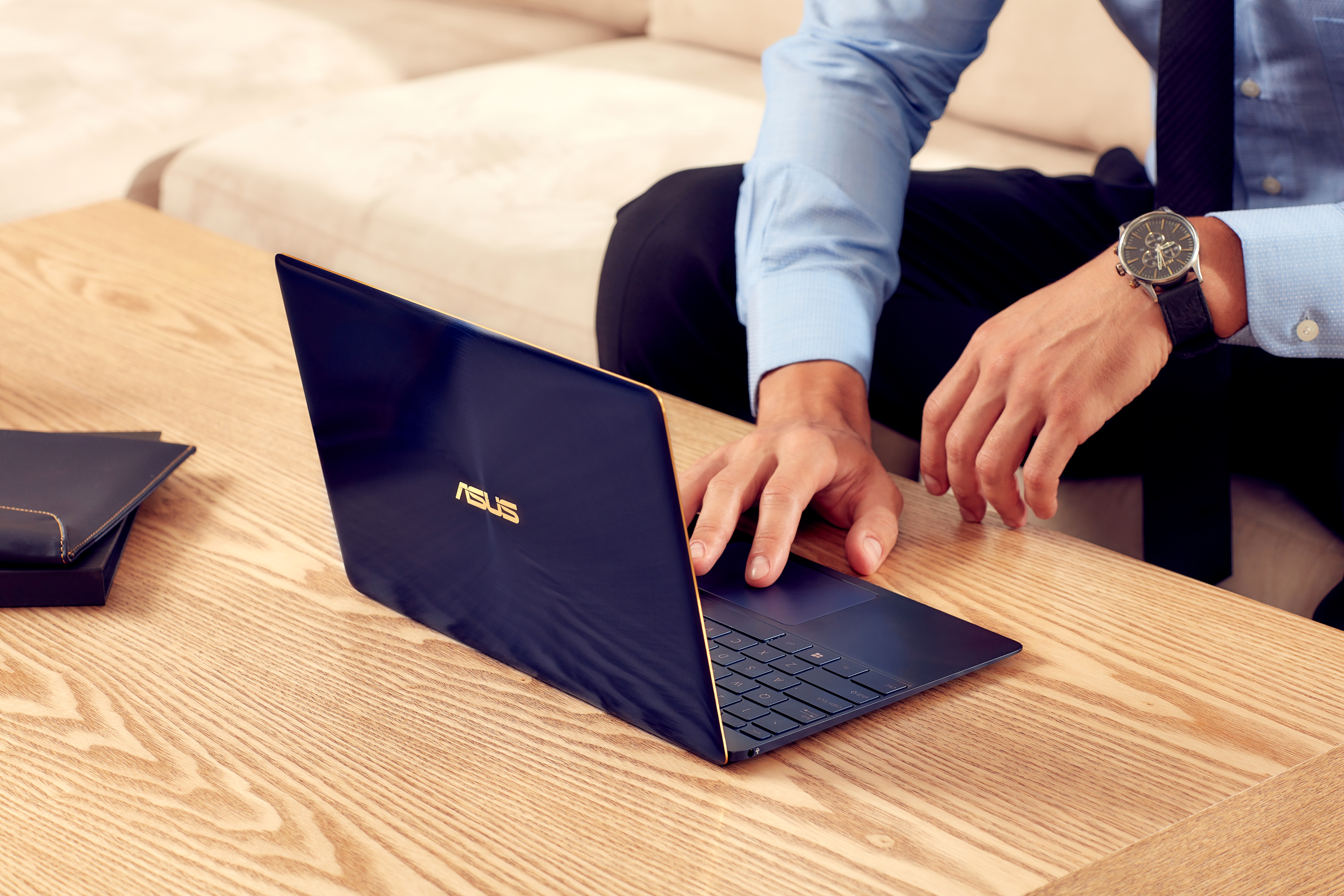 At only 11.9 mm thin and 910 g, you'll barely notice this laptop in your bag. The footprint is on par with an A4 sheet of paper, making it practical even for cramped working conditions.
2. Exquisite colors
Your PC is an integral part of your life, and it should look the part. The colors available for the ZenBook 3 will surely fit your style.

All models have a gold trim to highlight the edges. An exclusive Royal Blue expresses a deep, understated mood. The premium Rose Gold meanwhile conveys a bright, happy attitude. The sophisticated Quartz Grey model is modern and sharp. No matter which way you go, the ZenBook 3 is one beautiful laptop.
3. Extra strong
You take your laptop into the office, back home, on trips, and everywhere in between. It needs to be tough enough to handle this kind of day-to-day punishment.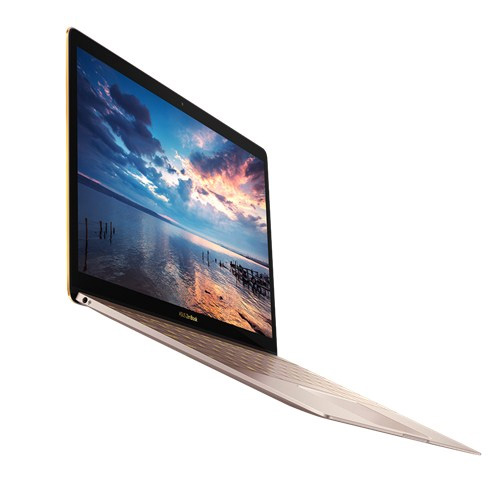 To weather these conditions, the ZenBook 3 is made of an aerospace-grade aluminum alloy, which is not only light and strong, but also gorgeous. Even the screen is ready to take a few dings. Thanks to the Gorilla Glass 4 covering, it's 85% chance less likely to break under stress than the previous generation.
4. Unprecedented performance
Though the ZenBook 3 has a svelte profile, you still need something that can perform under pressure.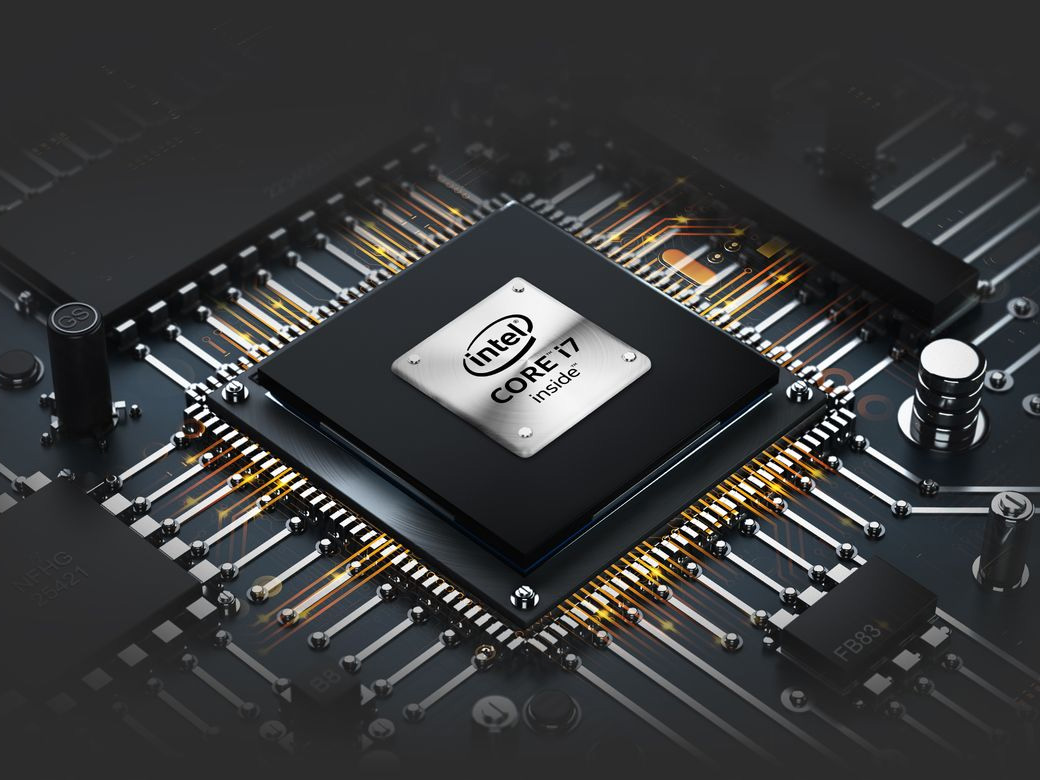 Tucked inside is a 7th. generation Intel® Core™ i7 processor able to handle the most intensive tasks. You don't need to worry about things slowing down when you have dozens of browser tabs open or editing video. The ZenBook 3 keeps up.
5. Ultimate speed of SSD
Your data is important, and you need to be able to get to it quickly. Luckily the ZenBook 3 has designed its storage specifically for professionals.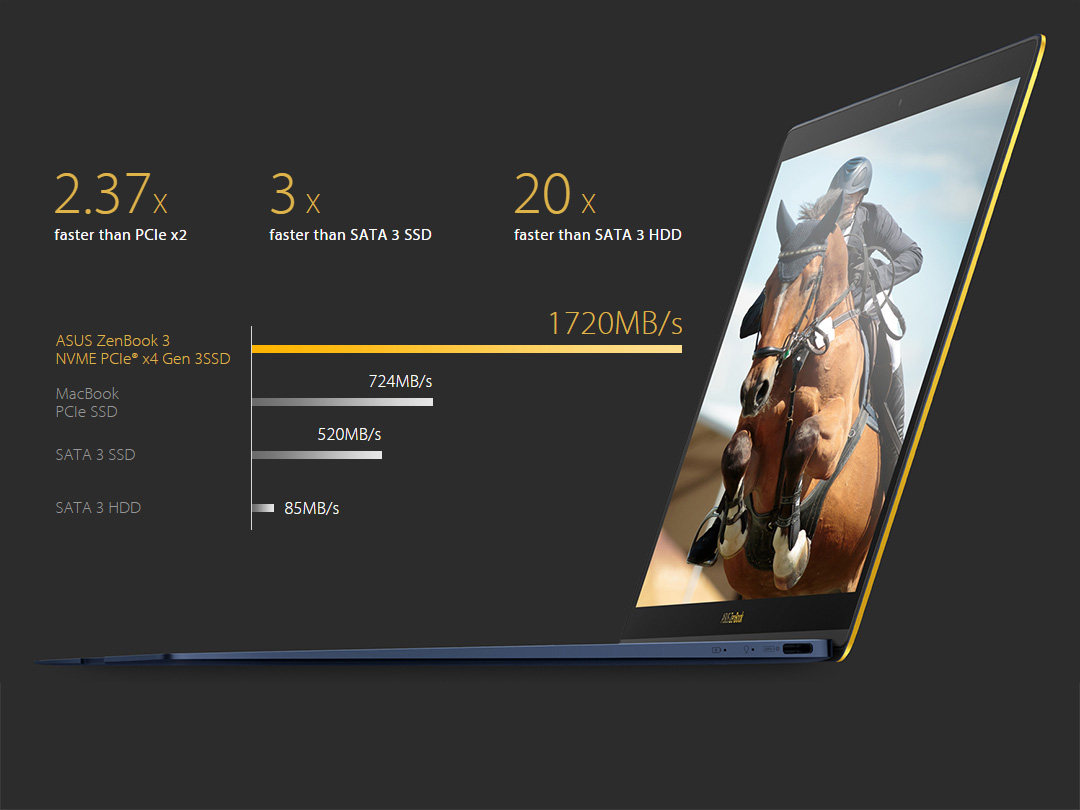 The ZenBook 3 is available with up to 1 TB SSD in a PCIe® x 4 configuration. This storage can deliver read and write speeds up to 3 times faster than SATA 3 SSDs, and up to 20 times faster than traditional disk-based hard drives. With the ZenBook 3, you can access video projects and other large files with lightning speed.
6. Ultra-fast memory
A vital factor for a responsive PC is RAM. The more you have, the less fetching from the SSD the processor needs to do, which translates to saved time.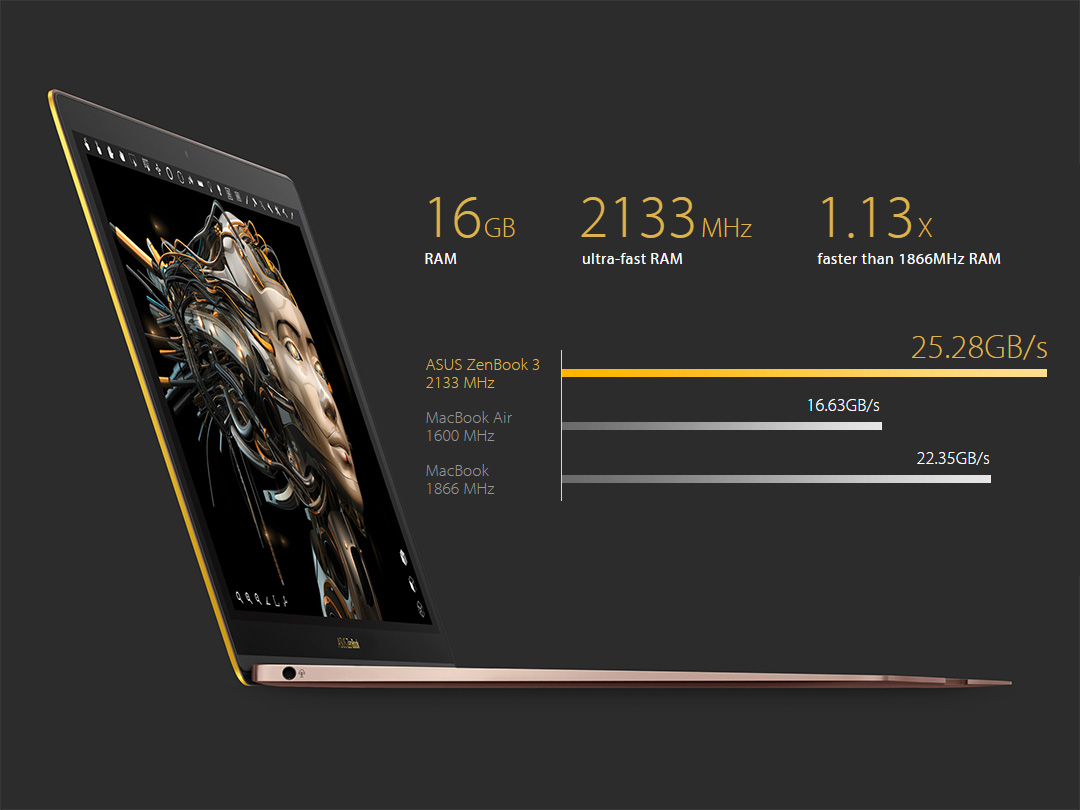 The ZenBook 3 features up to 16 GB of low power DDR3 RAM, operating at 2133 MHz speed. The end result is a smooth, snappy experience, even when working with a lot of data.
7. Innovative thermal system
With this much going on inside such a small space, keeping the internals nice and cool is vital to maintaining peak performance.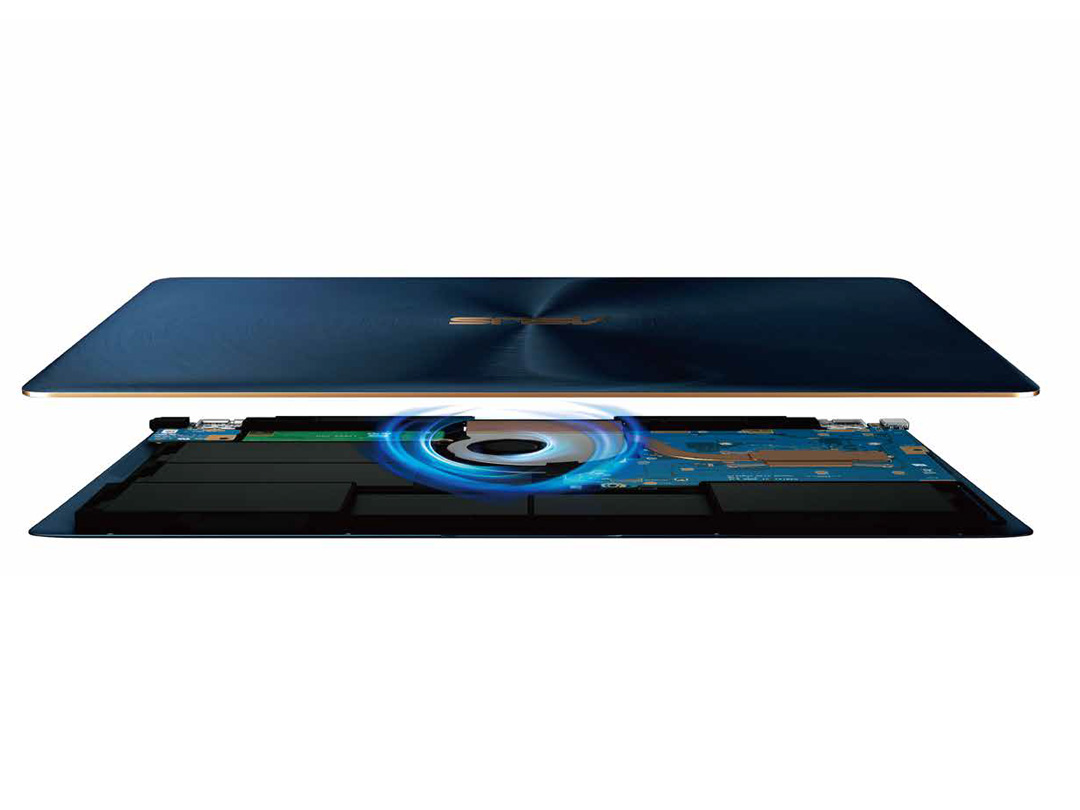 To that end, ASUS has engineered an amazingly compact cooling system. It starts with a fan impeller that's only 0.3 mm thin. It's made from liquid-crystal polymer, a material which maintains mechanical cohesion at high temperatures. This blows hot air towards a copper-alloy heat pipe, then out through a hidden vent beneath the hinge. The whole system is a mere 3 mm thick, allowing the whole chassis to stay slim as a result.
8. A beautiful screen
The display of a PC is where all of your attention goes. ASUS wanted to make sure it's been designed impeccably and worthy of your focus.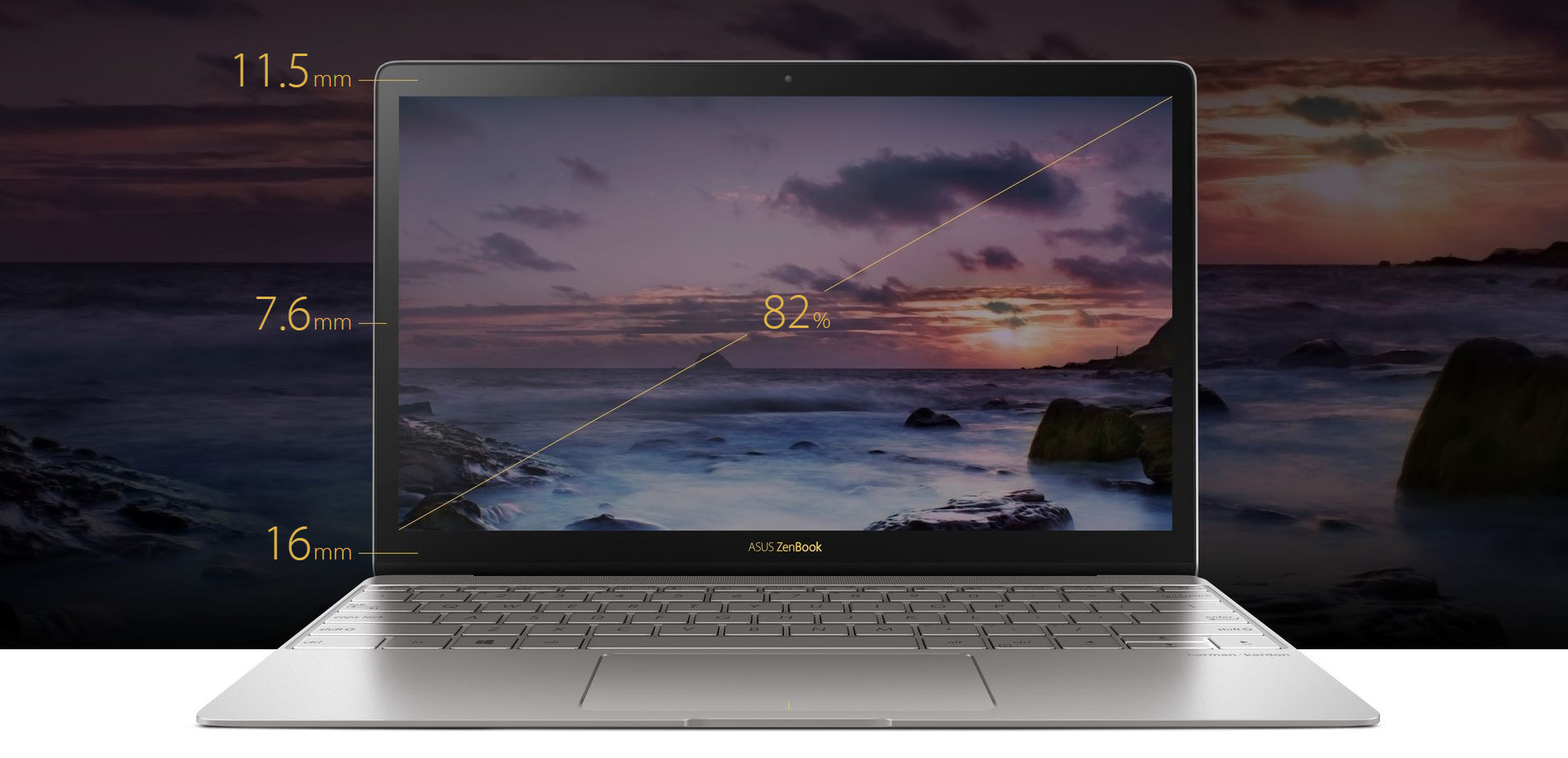 This starts with a super-slim bezel, measuring only 7.6 mm. This way the 12.5-inch display dominates your view with an 82% screen-to-body ratio. The generous 178-degree viewing angle ensures you can see everything perfectly,
9. Crystal clear colors
For whatever videos you watch – Netflix, YouTube, or otherwise – and any photos you enjoy, color is at the very core. ASUS ensures they're represented truthfully and vividly.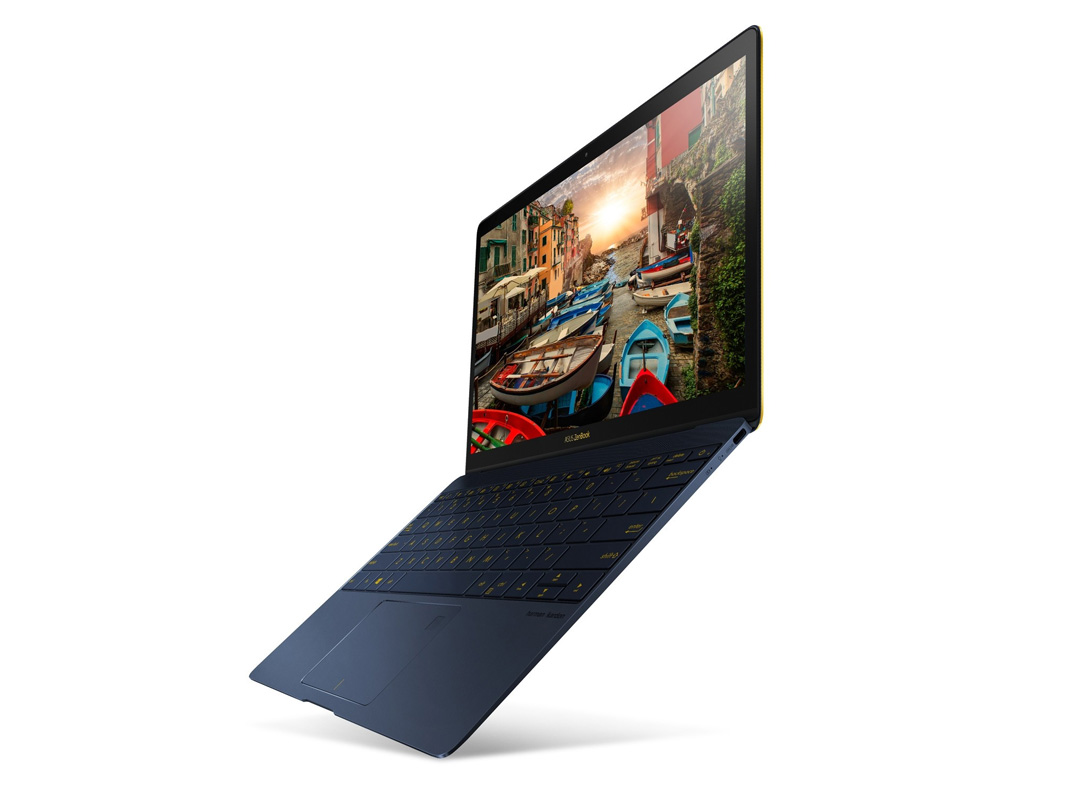 The ZenBook 3 sports a 100% sRGB wide color gamut. Your content will be faithfully reproduced no matter what. You can enjoy TV-grade contrast on your laptop thanks to the 1,000:1 contrast ratio. The ZenBook 3 can do all of this even in the outdoors thanks to the display's 300-nit brightness levels.
10. ASUS Eye Care technology
Spending a lot of time in front of your computer can cause long-term strain on your eyes. Blue light in particular operates at a shorter wavelength, and can potentially do the most damage.
Thankfully, ASUS has included Eye Care mode, which reduces blue light emissions by up to 30%. This keeps fatigue low so you can keep working comfortably.
11. Exclusive Harman Kardon audio experience
A great picture needs great sound for a video experience to be complete. ASUS has found the perfect partner to make sure the ZenBook 3 has cinematic sound through and through.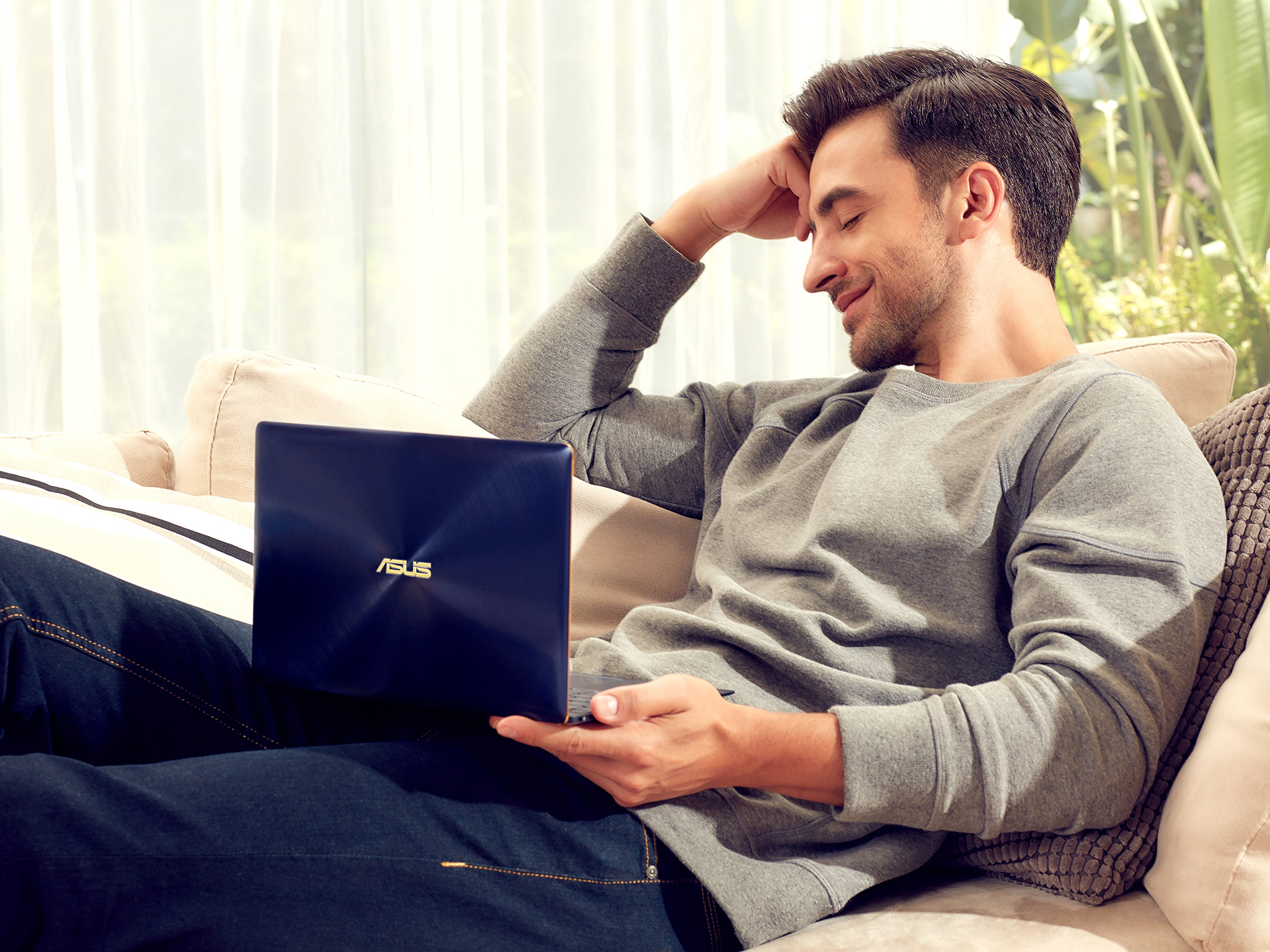 Harman Kardon has tested this laptop's audio to meet their exacting standards of excellence. Music is finely textured, speech is crisp and clear, while bass is deep and soulful. No matter what you're listening to, the ZenBook 3 will be a delight to your ears.
12. Finely tuned quad-speaker design
To deliver this incredible audio experience, the ZenBook 3 needs the right hardware. Positioning, size, and power draw are all factors that have to be taken into consideration.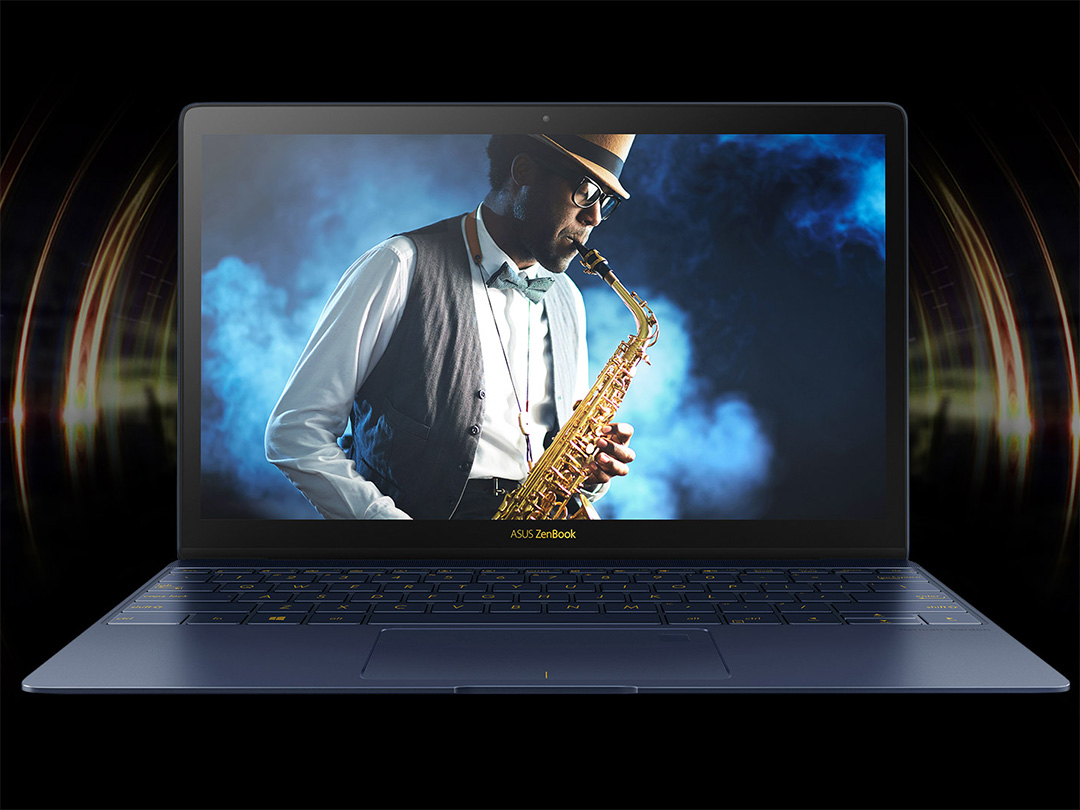 The ZenBook 3 manages to house four high-quality speakers throughout its slim frame. The two speakers above the keyboard reach the higher notes, while those beneath handle the lower frequencies. These are aligned and paired to deliver a surround-sound experience that you really have to hear to believe.
13. Special five-magnet speaker design
Getting great sound out of such limited space requires a massive amount of ingenuity. Big sound typically requires a lot of room, but ASUS has found a way to make the most out of the room available.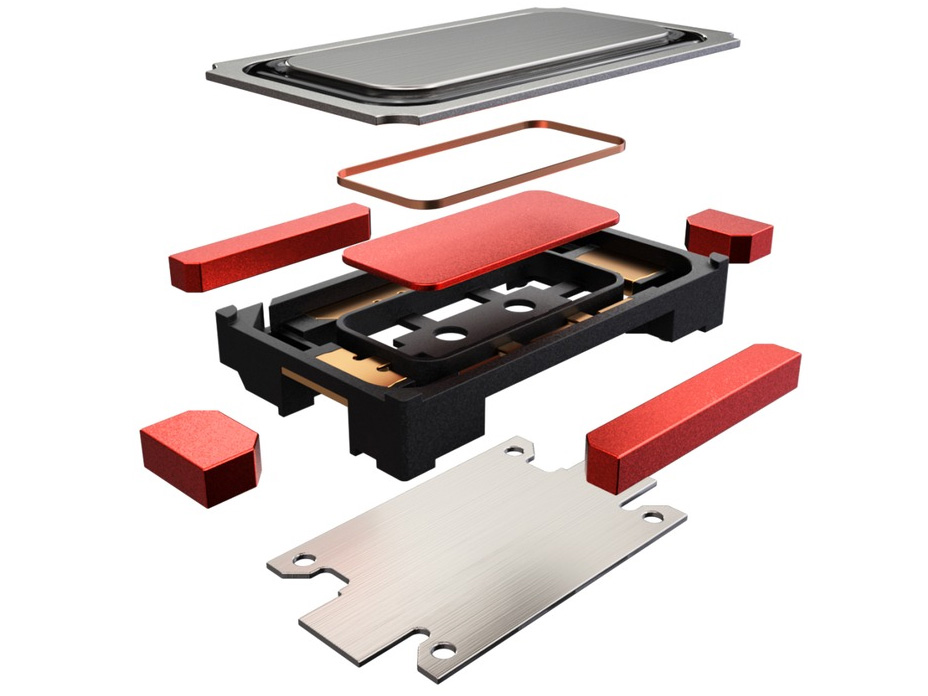 A special five-magnet design helps the bass drivers on the ZenBook 3 to produce loud and strong audio. That means excellent bass response with minimal minimal distortion compared to traditional laptop speakers.
14. Smart amplifier for maximum volume
An amplifier controls the signal that finds its way to any given speaker system. Those speakers can only handle so much signal before getting damaged, but the ZenBook 3 can push the limits here.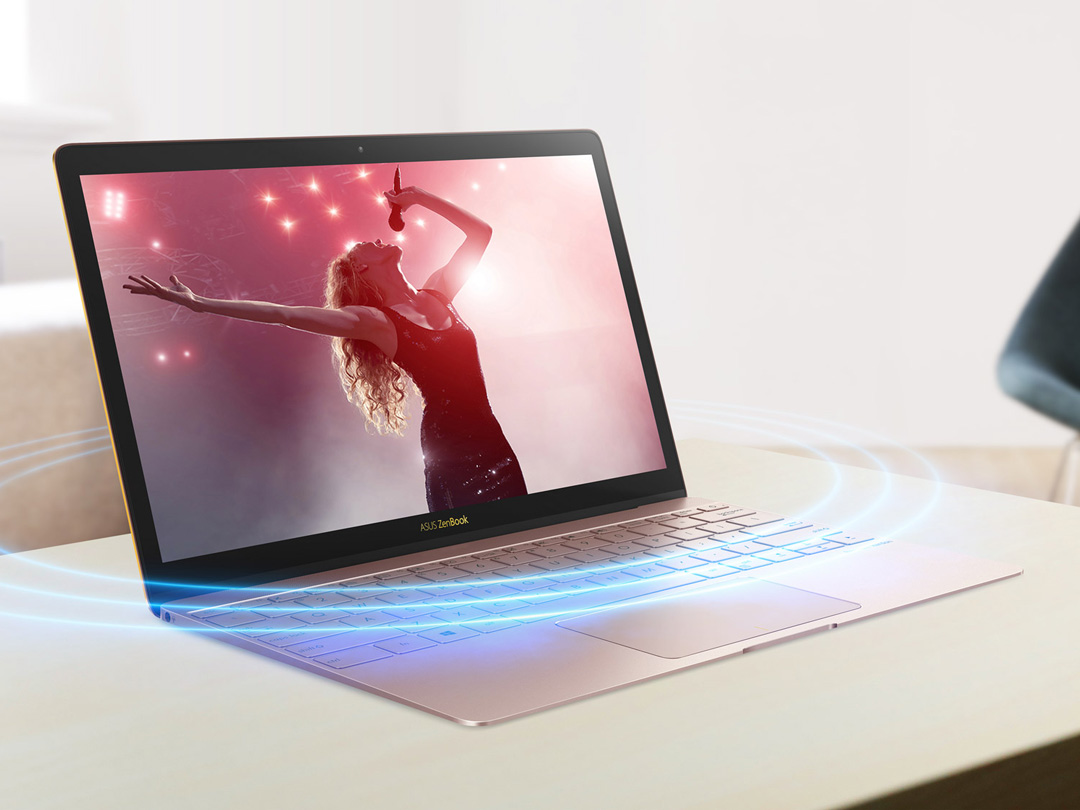 The ZenBook 3 uses a smart amp, which dynamically monitors incoming signals to the speakers. This allows a higher ceiling on volume across all four channels. That means bigger sound for you and your colleagues with little distortion.
15. Next-generation input
To make such a slim laptop possible, the ASUS needed to by mindful of the plugs it used. Besides the headphone jack, there's only one other type of input that makes sense.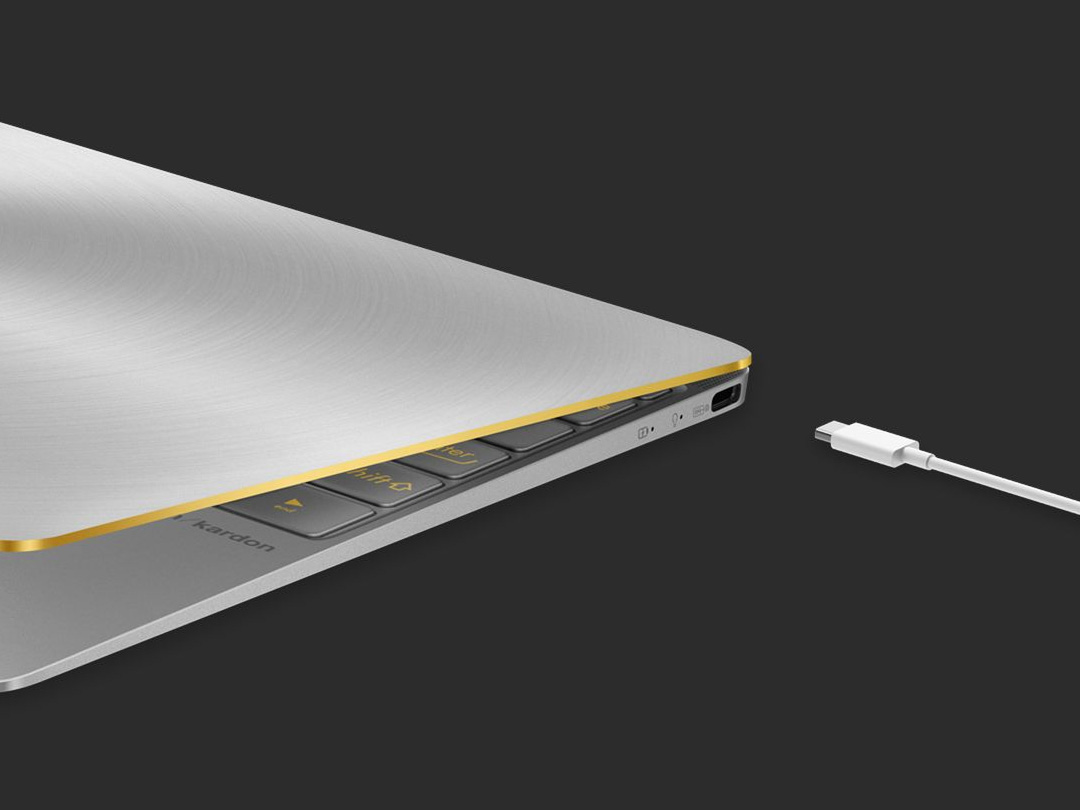 USB type-C is the answer. It's a fully reversible type of plug. That means it doesn't matter which way you put it in, you'll get a steady connection either way. Despite its size, USB type-C is quite versatile. It's used to charge the ZenBook 3, extend the display to external monitors, and facilitates high-speed data transfers. For those that need to do more, there's always the Universal Dock available.
16. A precise and elegant touchpad
Just because you don't always have the room for a mouse doesn't mean you need to sacrifice ease of use.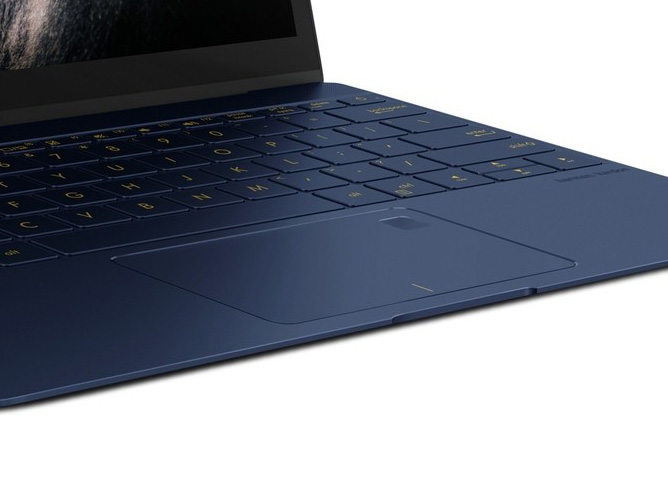 A generously large touchpad can detect your finger with extreme precision. Besides simply navigating Windows 10 with one finger, the touchpad has PTP certification, so it can recognize multitouch shortcut gestures. These can be as simple as showing the desktop, zooming in on a picture, or scrolling down a web page. While you're typing, intelligent palm rejection ensures the cursor doesn't get in the way. For a more personal touch, you can even use the touchpad for traditional handwriting.
17. It knows your touch
When you're busy, dealing with log-in screens can be a hassle. Those few seconds add up over the course of years of use.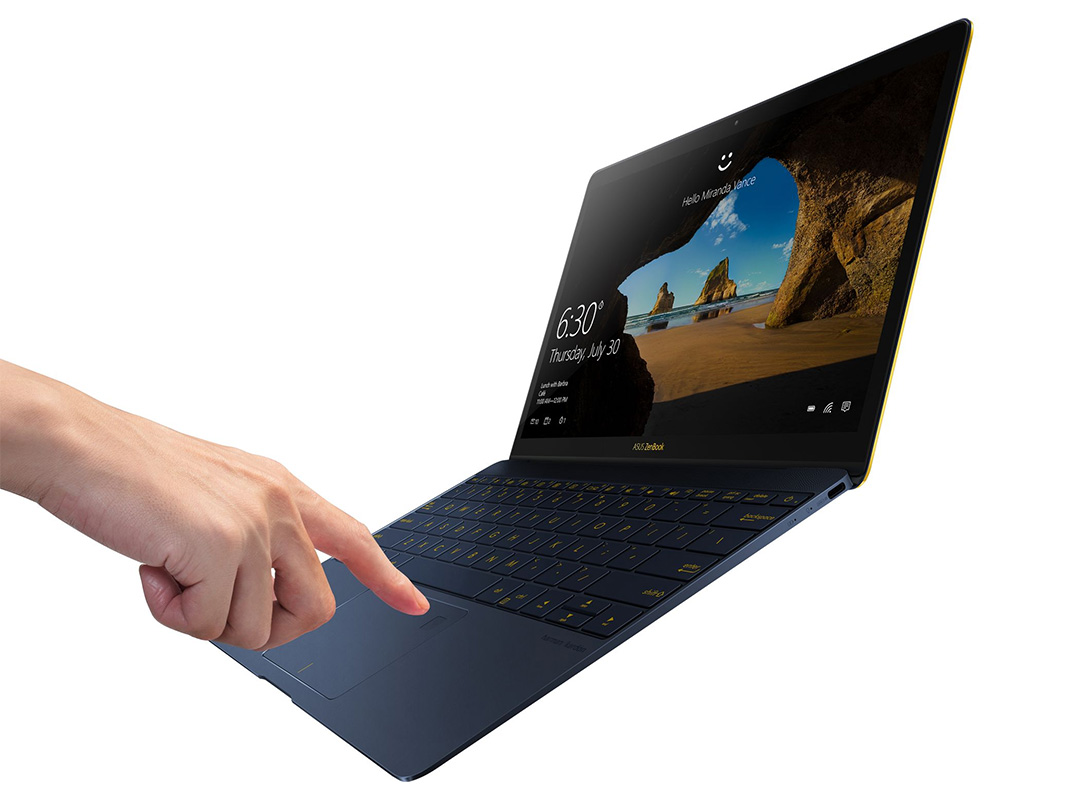 The ZenBook 3 includes a fingerprint sensor by the touchpad, so you can get access to your work quickly. This ties in with the native Windows Hello authentication system, so you can rest assured that access remains absolutely secure.
18. It listens to you perfectly
For all of the music and videos you'll be listening to on the ZenBook 3, it can listen to you too.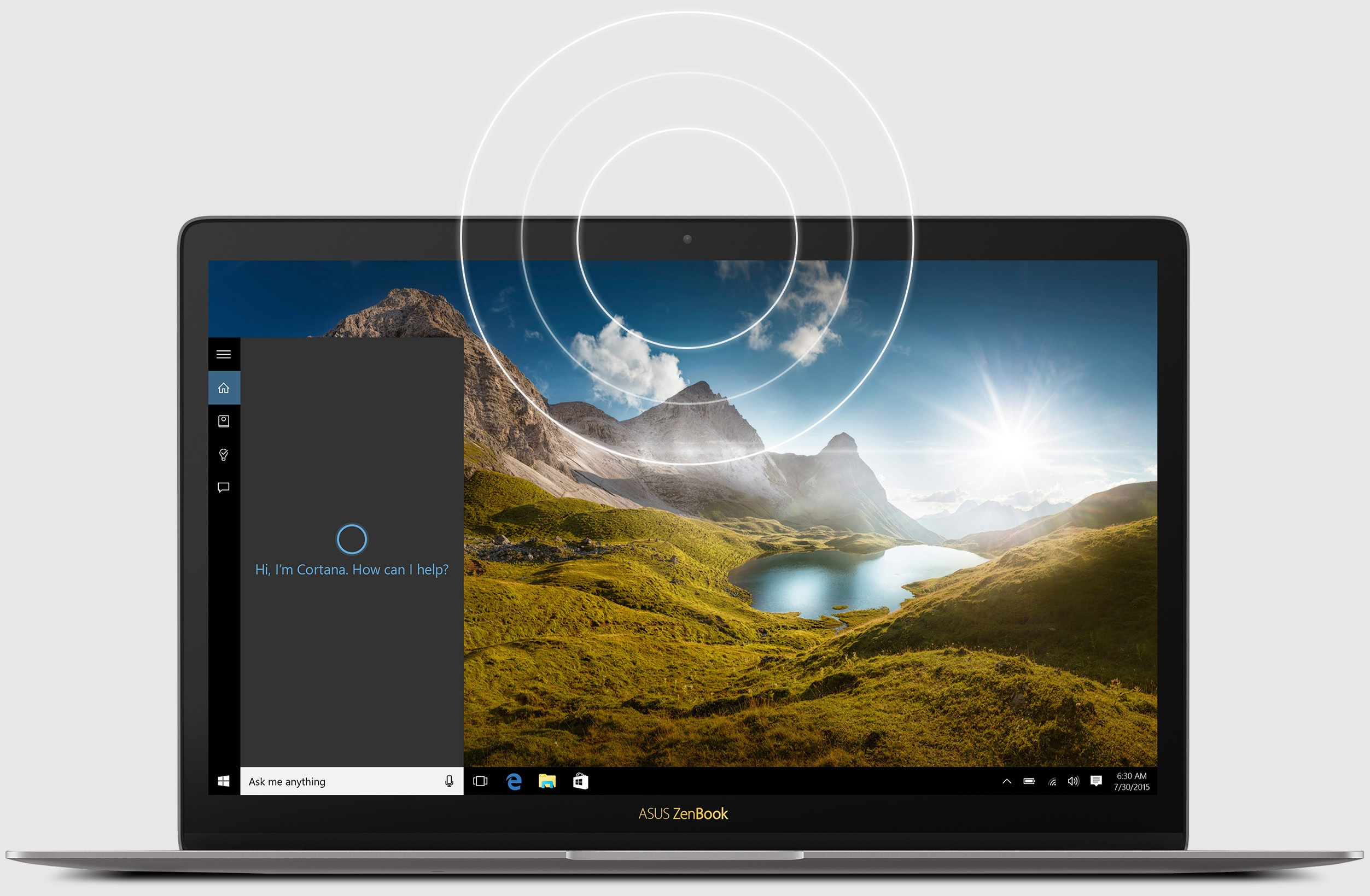 A special array microphone picks up your voice from multiple locations across the front face. This helps isolate background noise and keep your voice clear. This is great for video calls, but it also helps with Cortana, the voice-enabled assistant baked into Windows 10. With it, you can effortlessly launch into day-to-day tasks, such as setting appointments, checking the weather, and searching the web.
19. A natural keyboard
Typing is a core aspect of using a computer. Your words are used in instant messaging, visiting your favorite websites, completing school assignments, putting together presentations for work, and lots more. With this much riding on the keyboard, it has to be done right.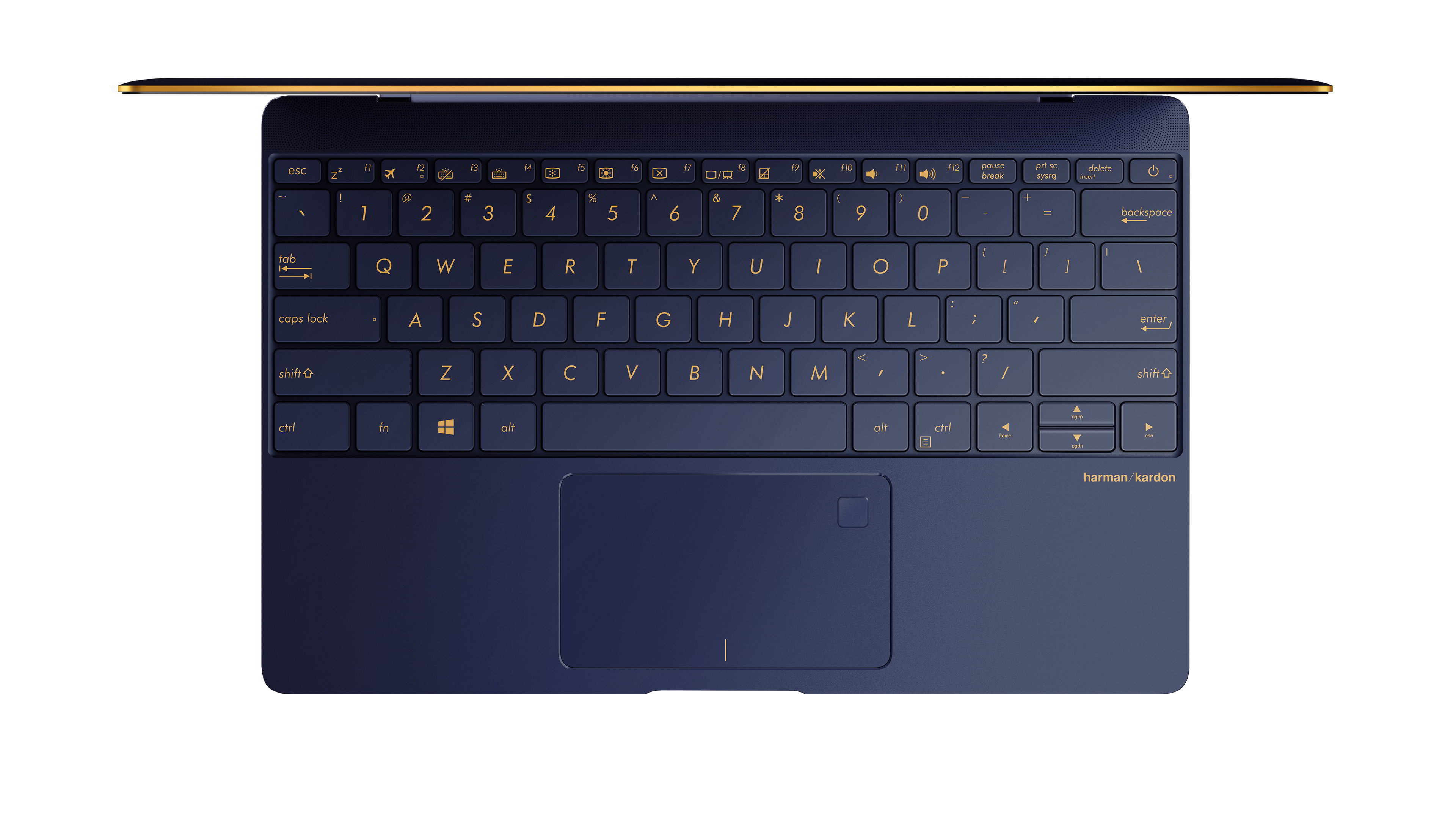 The ZenBook 3 has been meticulously designed to be on par with classic desktop keyboards. That involves having 0.8 mm of key travel, big keys, and appropriate spacing. Backlighting can help you can write comfortably in dark scenarios, too. Settling into a long e-mail on your laptop has never been so comfortable.
20. All-day battery life
You work hard. Some days are long, and demand you spend a lot of time at your workstation. The ZenBook 3 can keep up.
A 40Wh polymer battery enables this laptop to go strong for up to 10 hours. Sometimes you'll only have a small window to charge up before going on the move again. That's why the ZenBook 3 was built with quick charging. You can get up to 60% charge in only 49 minutes.
Those are some of the key points of the ASUS ZenBook 3. This laptop is undeniably beautiful, and manages to balance incredible performance. Visit the ASUS ZenBook 3 product page to learn more about it.